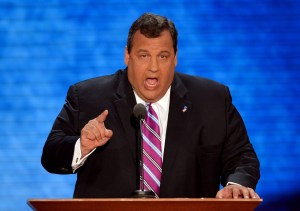 TAMPA, Fla. — New Jersey Governor Chris Christie, who gave the keynote speech at the Republican National Convention last night, told the story of the meeting where he agreed to endorse Mitt Romney at a breakfast hosted by the New Hampshire and Pennsylvania delegations in a Doubletree Hotel by the Tampa airport this morning. Mr. Christie said he made the decision when Mr. Romney and his wife, Ann, visited the Christie homestead last fall for what was supposed to be a quiet business lunch. However, Mr. Christie's children had other plans.
Before the lunch, Mr. Christie said he and his wife, Mary Pat, quickly worked to get their house ready for the Romneys.
"First of all, oh my God, we have to clean the house," Mr. Christie said. "Mary Pat works, I got a pretty busy job, we've got these four kids, and let's just say our house is not always, you know, perfectly tidy."
The house wasn't the only thing they needed to prepare for the Romneys' visit. Mr. Christie said he and his wife also had to sit their children down for "the talk" ahead of the lunch.
"About an hour before the Romneys were getting there, we said to them, 'Listen, remember your manners … He could be the next president of the United States, so you want to make a good impression,'" Mr. Christie explained.
When the Romneys arrived, Mr. Christie said his two oldest kids "were fabulous." His younger children, Patrick, who was 11-years-old at the time, and Bridget, who was 8 years old, were apparently a different story.
"Patrick and Bridget, on the other hand, felt as if, after the initial introduction that that was a little bit of a perfunctory amount of attention for them from the next president of the United States," said Mr. Christie. "They were looking for a little more."
Patrick was the first to strike.
"We see like a little flash out of the corner of the eye," Mr. Christie recounted. "By the time we turned, Patrick is careening toward the next president of the United States on his rollerblades–and I mean flying at Mitt Romney. And he gets within about two feet of him and then hits those brakes at the top … he stops short, and he goes, 'How you doing?'"
Mr. Romney was apparently unfazed by Patrick's entrance and ended up having a "conversation back and forth" with the young boy about hockey. Patrick departed a few minutes later as abruptly as he'd arrived, after Mr. Romney asked him a question about hockey that "didn't interest" him.
Not to be outdone, Patrick's younger sister, Bridget, soon made her own appearance.
"Bridget saw Patrick getting all this attention from Mitt Romney and so she decided it was time to make her move," said Mr. Christie. "So, on to the back patio comes Bridget Christie, 8 years old, doing cartwheels, somersaults and handstands in front of the next president of the United States."
Mr. Romney responded by warning the little girl that there were "lots of hard things" on the patio where he was having lunch with the Christies and taking her by the hand onto the grass in the backyard where he played with her and discussed her gymnastics classes.
"For five minutes, I watched him helping her with her cartwheels, engaging her," said Mr. Christie. "She had this huge smile on her face."
Bridget eventually departed "without any grave national incident."
Mr. Christie told the audience at the New Hampshire and Pennsylvania breakfast that he told the story to illustrate that, while many politicians are "godawful" and "awkward" with children, Mr. Romney was "completely confident" with the Christie brood.
"I was sitting there eating this sandwich and listening to him talk about policy stuff. I was thinking to myself, this is a real guy, this is a real father," said Mr. Christie. "I would apply to most politicians the child test, and if they pass that test, you know they live their lives in a way that family is central. And if their family is central to them, your family is going to matter to them too."
At the lunch, Mr. Christie agreed to endorse Mr. Romney. He made his first appearance for the candidate a few days later.
Mr. Romney may have connected with the Christie children, but during his two quests for the presidency he's earned a reputation as a bit of an awkward campaigner. Mr. Christie finished by saying he hoped the qualities he saw in Mr. Romney at that lunch last fall would be on display when the candidate makes his closing speech at the RNC later this week.
"I hope that that Mitt Romney comes across on Thursday night. It's going to be a challenge, it's a challenge for anybody … It all looks easy until you get up there," Mr. Christie said. "I hope that Mitt Romney comes across. I suspect he will."