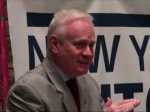 The powerful Hotel Trades Council union is set to endorse Marty Golden this afternoon, The Politicker  has learned.
The union typically goes with Democrats–although they did back Mayor Mike Bloomberg in 2009–and represents a significant boost for Mr. Golden, a Republican who will face Andrew Gounardes, in November.
"The Hotel Trades Council is proud to endorse Senator Marty Golden for re-election.   Senator Golden consistently stands with hotel workers throughout New York in our struggle for good wages and fair benefits," said Josh Gold the union's political director, in a statement. "This past year, Senator Golden was instrumental in passing new legislation that protects workers'  rights to join a union at public hotel projects throughout New York. We know we can count on his continued leadership & support."
As I wrote earlier this month, HTC, led by Mr. Gold and union president Peter Ward, has become perhaps the biggest union get out there, since they send dozens of well trained troops out into the field to knock on doors and corral voters.
As one Democratic consultant explained to me then, the difference between HTC and some other big labor unions was:
"Are other unions resting on their accomplishments from six or 12 years ago? Yeah.  It is not enough to say [to a lawmaker] 'I need this.' Contrast that with, 'I am in your district, I am organizing against you, I am fucking your shit up. You need to fix this thing.'"
Mr. Golden has won re-election by comfortable margins over the past decade, but merely the fact that he is a Republican in deep-blue Brooklyn makes him always somewhat vulnerable.
The legislation that won him the support of HTC–and referred to in Mr. Gold's quote–was S6944, which Gov. Andrew Cuomo signed into law in June. It stipulates that if a State Authority, like say, the MTA, has a substantial interest in developing a hotel on land they own, that hotel must permit a union to form there if one is sought.