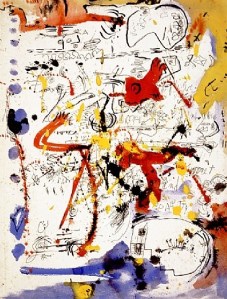 On Sept. 20, a small painting entitled Red, Black & Silver, will go up for auction at Phillips de Pury. The painting, a swirl of red paint around a black splotch on a silver background, is listed as "attributed to Jackson Pollock," as opposed to "by Jackson Pollock." Behind the decision to label the painting as such lies a fascinating tale involving Pollock, Pollock's mistress, Ruth Kligman, and Pollock's wife, the artist Lee Krasner. The story in full, by Lesley M. M. Blume, is in the September issue of Vanity Fair. And it's riveting.
Kligman, who survived the fatal car crash that killed Pollock, and who died in 2010, had claimed that the painting was an "intensely personal gift" that Pollock made for her, and that she had been its sole owner since 1956, the year of the his death. "'I stood next to him and watched him paint it,' Kligman wrote [to the Pollock-Krasner Authentication Board]. 'It was a very joyous moment for us both.'"
But the canvas was anomalous to Pollock's oeuvre, according to experts. Among other things, it was painted on commercial canvas board, a "geometric design" was detected under the surface, and there were also concerns over the surface pigments.
Though Kligman didn't mention the work in her 1974 book Love Affair: A Memoir of Jackson Pollock, she included a descriptive passage about Pollock painting the work for her in the 1999 paperback edition of the book. And while the work wasn't published in Pollock's original catalogue raisonné in 1978, there was some discussion of it potentially being included as an authenticated work in a supplement to that document, though that never came to be.
From the story:
In the following months, the discussion became framed in terms of whether Red, Black & Silver would be included as an authenticated work in the planned supplement to the catalogue raisonné. As part of their investigation, the board members scoured Love Affair—which Thaw and O'Connor had referred to as a "fictionalized memoir" in the final pages of the catalogue raisonné. They noted that Kligman herself had acknowledged that Pollock "was not able to paint in the end," and they wanted to know how she had managed to remove the painting from the Springs property, as she'd indicated in the book that all of her personal possessions had been "destroyed" while she was hospitalized after the car accident. Kligman responded that the creation of Red, Black & Silver had been "spur-of-the-moment," and gave her account of bringing the painting to Bette Waldo Benedict's apartment on August 9, 1956.

The board also asked why Red, Black & Silver was not mentioned in Love Affair: "Why was this quite significant and moving moment in her relationship not reported?" And why, they pressed, had she not presented it to the world earlier?
Read on. The investigation of this issue will keep you glued to the page.