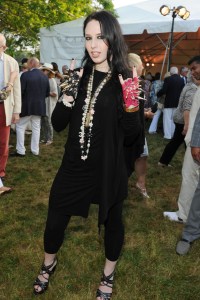 "This is insane…it's like a Fellini film," The Observer overheard one guest murmur as we arrived at the Southampton Hospital gala last Saturday evening. The theme of the evening was Grand Prix Monaco, though many of the high-paying donors didn't seem to have gotten the memo—or known what it meant, perhaps. Women wore colorful dresses in every conceivable hue and style, while the men ranged from casual checkered shirts to top hats and tails.
Though this was a charity event, there was a measure of self-interest on the part of the attendees: after all, the Jenny and John Paulson Emergency Department of Southampton Hospital is the only emergency room facility for 50 miles. As opposed to say, giving money to Haiti, this was clearly a cause that could potentially affect donors directly.
"This benefit is considered sort of the social benefit of the season," gala chair Laura Lofaro Freeman told The Observer. "It's really to update and upgrade the equipment in the emergency room, make sure it's cutting-edge…et cetera."
When we asked what was the most common kind of emergency they dealt with in the Hamptons—beyond the expertise of the handsome doctors in Royal Pains—Ms. Freeman ticked off a list. "Terrible car accidents, surfing accidents, bike accidents…and, you know, a lot of a heart attacks."
Heart attacks were a prevalent theme at the gala, particularly when the president and CEO of the hospital, Robert S. Chaloner, took the stage during dinner.
"Our dream was to get 800 people in a tent, crank the heat up to 100 degrees, and hope that someone has a heart attack, knowing that our hospital is only a block away," he joked.
To drive the point home even further, an ambulance appeared on the lawn, with its lights on, during cocktail hour. Someone had already taken a nasty spill in the grass, we were told. Despite the fact that the party was held on the hospital's grounds on Wickapogue Road, the emergency truck was on call all evening. You know, just in case.
Of course, the costuming alone was enough to give an elderly patient a cardiac episode. Joy Marks and Leesa Rowland were in hot pink, while Archie Comics publisher Nancy Silberkleit wore construction-area neon ("I'm more of a Veronica than a Betty tonight," she told us), a look copied by Dr. Lewis Feder. Global head of marketing and investor relations for Ares Management Suzanne Murphy went with a subtler tangerine gown. Somers Farkas chose a lighter shade of gold to accent her deep tan, while Jean Shafiroff had changed from her polo daywear of bright yellow to a white ball gown featuring lemon-colored daffodils.
Then there was the black brigade: Madame Mayhem, the Chanel-sporting goth-chic singer who was the "surprise" guest of the evening, joining bandleader Alex Donner for his 10th year at the event.
"I usually sing Lady Gaga, but I think tonight that will be Madame Mayhem," Mr. Donner laughed. We couldn't tell if this was a joke. Ms. Mayhem ended up performing "Mony Mony"…an unusual selection, but one that got the audience dancing (without regard for their blood pressure).
We asked Ms. Freeman about the origin of her outfit, a deceptively simple but complexly constructed bodice-and-gown affair that floated open whenever she embraced a new guest.
"The idea was to make it ethereal and fun and French…sort of like Grand Prix Monaco," Ms. Freeman said, twirling around in a spray of baby blue.
Helpfully, Ms. Freeman kept her designer by her side. "Two things that Laura mentioned when she told me about her idea for the dress: she wanted it to open up in the wind when she walked," Project Runway veteran Wesley Nault told The Observer, "and the other is that Laura loves construction, so she literally wanted it to stand up when she sat down. So you can sit the dress on the bed and it looks like someone's in it." Eerie!
Once everyone had flounced their way into the tents, we found ourselves sitting at the table of Howard Lorber, chairman of Prudential Douglas Elliman, the evening's biggest sponsor.  (Also from the firm was top-selling broker Lisa Simonsen.) Chris Del Gatto of Circa was to our left, looking a little bit glum despite the presence of his gorgeous fiancée, model Veronica Webb. We don't blame him: during a game at the Bridgehampton Polo Club earlier that afternoon, one of his team's horses had died during a match against Nacho Figueras' team.
We asked Mr. Del Gatto why polo wasn't played at the Olympics anymore.
"You get very particular horses," he sighed. "And the travel can be very tough on them."
That didn't explain why dressage is still an Olympic sport, but we decided not to press it, especially since Social Life publisher Justin Mitchell was sitting right across from us, and as it was the media sponsor of the evening, we didn't want to speak too ill of the Sport of Kings, which the magazine covers extensively. Besides, we were here to talk about human health, not horses! (Not to mention that Peter Brandt and Stephanie Seymour were in earshot.)
The gala also featured a silent auction, in which guests could bid on a number of interesting items, including a watercolor portrait of your child, home or pet (but no snakes) by artist Katrina Vanderlip. By evening's end, more than $1.6 million had been raised for improvements to the emergency unit.
Nevertheless, Ellesse CEO Byron Hero was still wary. "Let's just say I wouldn't want to get sick here," he quipped.