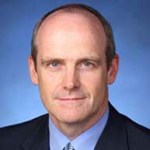 Here are the things you need to know about J. Michael Evans: he is a Goldman Sachs vice chairman, a potential successor to Lloyd Blankfein, an Olympic gold medalist with the 1984 Canadian rowing team and a man of a certain sort of confidence. What sort? "Any great rowing crew has a strong, shared confidence in its ability to win," Mr. Evans said in an interview for a Goldman publication head of the London Olympics. "You don't often see this spirit in any pre-race histrionics—the high fives and chest-thumping seen in other sports. Instead, successful teams exhibit unspoken self-belief that sustains the crew throughout the race."
It was perhaps that particular flavor of confidence that spurred Mr. Evans to forgo 15 Central Park West, which Mr. Blankfein calls home, and strike out on his own in an 8,360-square foot condominium on the top floor of 995 Fifth Ave. According to The New York Post:
Evans, an Olympic gold medalist for Canada in rowing, was highly visible at charity events in April. At one he paid $22,000 for Eric Ripert to cook in his home—in the same week that Goldman CEO Lloyd Blankfein said that the board has a successor in mind but hasn't told the person yet. And we're told that the chatter in the broker industry is that Evans deliberately decided not to look at apartments at 15 Central Park West—where Blankfein lives.
Mr. Evans new abode, which features a 42-foot-long great room, a six-room bedroom suite and nine-and-a-half baths, sold for $27.5 million, which, we might add, is more than the $26 million Mr. Blankfein paid for his duplex at 15 Central Park West in 2010.