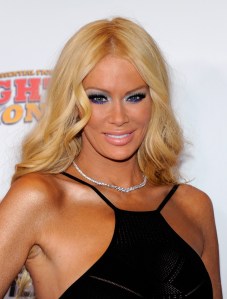 Porn Star Jenna Jameson endorsed Mitt Romney last night while sipping champagne in the "VIP room" of a San Francisco strip club.
"I'm very looking forward to a Republican being back in office," Ms. Jameson told CBS. "When you're rich, you want a Republican in office."
Ms. Jameson seems to have switched political allegiances. In 2008, she backed Hillary Clinton.
"I love Hillary. I think that in some ways she's pretty conservative for a Democrat, but I would love to have a woman in office. I think that it would be a step in the right direction for our country, and there would be less focus on war and more focus on bettering society," Ms. Jameson said.
At least one Democratic strategist we spoke with was not shocked by Ms. Jameson's Romney endorsement.
"Makes sense – they both made a living out of screwing the average working guy," said the strategist. Hey now.