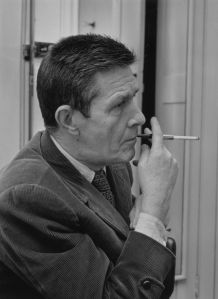 As you may have heard, it's the centennial of John Cage's birth this year, and institutions all around the world are staging special events in honor of the late composer. It turns out that today happens to be the 60th anniversary of the first performance of Cage's landmark work, 4'33."

The work premiered on Aug. 29, 1952, in Woodstock, N.Y., at the Maverick Concert Hall, and was presented by the Woodstock Artists Association. David Tudor sat at a piano for the amount of time in the title, not playing, closing and then opening the keyboard lid to mark the end and beginning of each of the work's three movements.
Composer and author Kyle Gann recently discussed the piece for, yes, 4 minutes and 33 seconds with documentary filmmaker Cambiz A. Khosravi. The resulting video is a nice primer to the work, noting its relation to the thinking of Duchamp and Rauschenberg, and how Cage came up with the idea as a response of sorts to the popularity of Muzak in the late 1940s. Take a look below.
[vimeo 48143735 w=500 h=281]
John Cage 4'33" from cambiz a. khosravi on Vimeo.