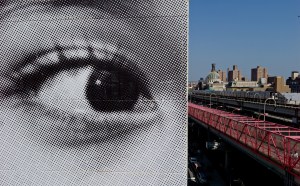 On a weekday evening earlier this month, as the sun set over the Williamsburg bridge, passengers on the JMZ may have noticed an addition to one of the Brooklyn buildings that wasn't there on their morning commute. Throughout the day, the French graffiti artist JR and his crew had pasted a giant black and white snapshot of an eyeball on the side of a seven-story building near the East River.
That morning, at 10 a.m., the artist and a handful of 20-somethings had met in a lot under the bridge, toting with them huge stacks of paper, piles of brushes and buckets filled with a sticky white wheat paste, the glue advertisers and street artists use to affix images to walls.
Near a tall crane there stood a wiry young man with a trim black beard and sunglasses, dressed completely in black. He was fidgety and seemed anxious. "This is gonna be big," he said.
This was the 29-year-old Parisian artist who goes by the two-letter moniker JR. His mega-scale images of eyes and faces have popped up across the city's walls in recent months, along the High Line, on buildings in Soho and on the Bowery and at an old factory in Hunts Point.
By now you almost certainly know his work. He's scaled buildings and evaded cops in dozens of countries, pasting works in heavily policed industrial Shanghai, Brazilian favelas, Tehran and South Sudan, to say nothing of his work in his native France. His fame has grown quickly and blue-chip dealers have come knocking. He is now preparing for a September show at French dealer Emmanuel Perrotin's new Hong Kong gallery, where, of course, he plans to do some extra-curricular wheat pasting as well. "The police in China are pretty bad," he said in an interview at his studio. "But we do it anyways."
In Tel Aviv last September, JR set up a photo booth on the city's main boulevard, and took photos of all comers, then printed the photos, letting people use his wheat paste and brushes to paste their portraits around the city. Though police confronted him, they did not intervene. The next day, JR headed to the West Bank with his camera, and soon his oversized black and white portraits appeared in Ramallah on storefronts, rooftops and street corners. JR left town after only a few days, but much of his work is still there.
In 2007, he headed to Israel for the first time, and took photos of Israelis and Palestinians, printed them on 15,000 feet of paper and pasted the posters of Jews on the Palestinian side of the separation wall, and vice versa, even hanging some next to Israeli checkpoints. "I wanted to bring the enemies face to face," he said.
"People always tell me, 'JR, you're crazy! You're gonna get arrested,' but, I make it work," he added. "An artist should be taking risks. That's the whole idea of being an artist."
The idea goes back his youth. He grew up poor in the suburbs of Paris, but moved into the city when he was 16, after he was expelled from school. He started marking up walls in Paris with a spray-can. One day he found a camera on the Metro, and soon traded in paint for film. He took photos of graffiti artists around Paris and pasted their portraits on the same walls they had marked up, calling the display "Expo2Rue" or "street exhibition."
His big break came in 2005, when widespread riots rocked Paris after two African immigrants were electrocuted as they fled the police in a nearby suburb. Feeling that the French media was biased in its coverage of the riots, JR took matters into his own hands. He photographed young immigrant residents of the banlieues, the city's outskirts, as they made funny faces at his camera, and pasted the portraits on walls across Paris's ritziest neighborhoods. The loud, unsettling response to class tensions received a great deal of press.
It's also gained him supporters in unexpected places. The organizers of the Technology Entertainment and Design (TED) conference recently awarded him $100,000, an annual prize it gives to fund ideas. He accepted it only on the condition that the money did not come from TED's corporate backers—Goldman Sachs, Rolex and Coca-Cola. The group used money from private individuals to the pay the award.
His overhead is not minimal. His studio in New York is filled with state-of-the-art computers and printers. Most of the money comes from art dealers, like street artist Banksy's former representative in London, Steve Lazarides, who has sold JR's metal panels pieces, along with large images of faces carved on wood. His work has sold at auction for $80,000, not that he sees any of that money.
"I produce only as much work as I need to support my large-scale projects," he said in the studio. "I could be out there—there are galleries in New York and a lot of other places that have proposed me shows, but that's not where I'm putting my time." Last year he was picked up by Perrotin, opening doors to well-heeled contemporary art collectors.
"I go by the philosophy that I have no long-term vision," he added. "Ten years seem like they've passed in one. So next year looks really far away. Look, I'm 29. When I started taking photos I was 17 and I had no idea you could have the job of being an artist."
"Fuck!" he added
Midway through the pasting in Williamsburg, a man approached the site with a spray can. It looked like he was about to vandalize JR's work. Instead, he approached the artist and asked for an autograph. JR signed his can, but seemed hesitant to do so. "I don't do graffiti," he'd said his studio. "I'm not a street artist. Shepard Fairey, Banksy, me, we all started around the same time. There wasn't this 'street artist' thing. That wasn't even a word. More than anything, I'm a wallpaper man. I'm an artist."
For the Williamsburg project, he'd had permission from the building's owner, who had planned to remodel the building anyway. JR has operated without problems in New York in the past, and it seemed like the Williamsburg project would go smoothly.
But by mid-afternoon there was reason to worry. A burly man in work boots and a tank top approached the site.
"Who is the boss here?" he asked the team. They looked up from their paste-filled buckets. He repeated the question, adding, "I need to speak to the person in charge!"
The boss had gone around the corner for a quick break from the heat. His right-hand man, Marc Azoulay, was 70 feet above the ground, pasting from the basket of JR's crane. The construction worker took out a badge: New York City Department of Buildings. He was going to call the police. JR had removed scaffolding from the front of the property to make room for the crane but hadn't returned it yet, which is illegal. One of JR's assistants rushed over and convinced him into letting them stay for another few hours. "Please, we'll put it right back when we're done," she said. It seemed like this had happened before.
The image they were pasting was a portrait of a member of the Lakota tribe in North Dakota. Recovered from the heat in the setting sun, JR stepped back to take in the scene. "The native story is pretty interesting," the Frenchman said, noting that Manhattan was purchased on the cheap from the Indians. "I want to spread that message, to bring the story back to Manhattan."