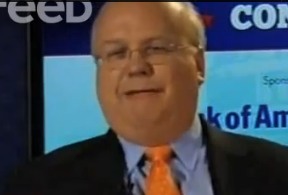 The one thing they don't tell you about the RNC in the lame-stream media is how much fun all these guys have! It's basically a week of comedy routines involving pretty transparently racist/sexist/homophobic humor; like a Dane Cook and Daniel Tosh special that just never ends.
Case in point: who knew that Karl Rove, former political strategist to President George W. Bush, was so good* at impressions? During today's live interview with Politico's Mike Allen, Mr. Rove did his best Ragin' Cajun voice, which could give Saturday Night Live's Bill Hader's James Carville routine a run for its money.

Karl Rove as Carville, whom he is besties with:
http://www.youtube.com/watch?feature=player_embedded&v=MovOe-bSpiU#!
Very subtle. "Bleh bleh bleh! Ableh bleh bleh!" It sounds like a middle schooler's impression of the teacher who just gave them detention for blowing spitballs at nerds.
Bill Hader:

It might be more accurate, but come on, you know Mr. Rove nailed it. Maybe he can break his contract at Fox and start doing work for Lorne Michaels.
*Terrible