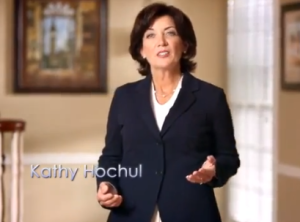 Congresswoman Kathy Hochul has a tough race as she runs for reelection in New York's most Republican district, and so it's unsurprising that she's out with an ad, entitled "Tough Choices,"  touting her breaks with Democratic Party orthodoxy. The independence-themed branding serves as a preemptive move against the inevitable attack linking her to President Barack Obama.
"We all know why Congress doesn't work," she begins, talking directly to the camera. "Tough choices need to be made and Washington doesn't make tough choices. I'm Kathy Hochul and that's why I voted for the Balanced Budget Amendment, it forces Congress to make tough choices."
Ms. Hochul then pivoted to foreign policy.
"It's why I voted to cut foreign aid to Pakistan," she added. "Pakistan still harbors al-Qaeda terrorists and endangers our troops, but almost everybody in Washington says you can't cut their aid."
"Kathy has always been known for her independence, and that's the same approach she brings to her job representing Western New York," her campaign manager, Frank Thomas, said in an attached statement. "We are going to continue to talk about Kathy's leadership in support of the Balanced Budget Amendment and her votes to cut foreign aid to Pakistan as examples of how she's cut through partisan Washington politics. It's her bipartisan leadership on the tough issues that have established her as an effective, independent voice for Western New York."
While it's still early in the game, it's clear Ms. Hochul would prefer if the election were a referendum on her rather than a broader Democrat vs. Republican affair. Accordingly, the ad doesn't even mention her Republican opponent Chris Collins even though the most recent poll shows Mr. Collins with a slight lead.
View the ad below:
[youtube http://www.youtube.com/watch?v=7pBMCg3z-mY]