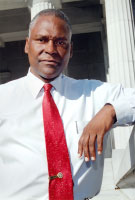 The Democrats in the State Assembly are rallying around Speaker Shelly Silver as his feeling the heat from Assemblyman Vito Lopez's sexual harassment scandal and the discovery that Mr. Silver authorized over $100,000 in state funds to be spent on confidential settlements for prior harassment claims. And you can count Assemblyman Keith Wright, the head of both the Manhattan and state Democratic Parties, among Mr. Silver's supporters, although not passionately so to the press.
Yesterday evening, the Politicker approached Mr. Wright outside the Midtown meeting where New York Democrats were preparing to select their official delegates for President Barack Obama's reelection, first inquiring what he made of the situation with Mr. Lopez, who chairs the neighboring Brooklyn Democratic Party. Mr. Wright responded with a nonverbal shrug.
"I think everybody else has made something of it," he next answered. "It is what it is."
We then questioned if he had a relationship with former Assemblyman Frank Seddio, who's currently set to be Mr. Lopez's replacement atop the borough's Democratic organization.
"I served with him, good guy," he said, adding when asked another question about Mr. Seddio's likability, "Good guy. Good guy."
And as to whether Mr. Wright had any thoughts regarding the criticism Mr. Silver is taking from the press about the settlement, he answered, "No thoughts."
"No thoughts. No thoughts," he repeated.
Later in the evening, an NY1 television crew interviewed Mr. Wright about the delegate selection process and pivoted to questions about Mr. Silver. They received a slightly more loquacious response.
"Listen, I felt that Shelly Silver acted swiftly, acted expeditiously in terms of the ruling that came down from the Assembly Ethics Committee," he said. "I don't know enough about the $100,000, don't know the facts of the case. I don't know the facts that went beyond … what I read in the newspaper, so I'm not going to comment on that issue."
"Well, the Speaker, Silver, has said what he has said," he stated about Mr. Silver himself admitting fault on the matter. "As I said, I don't know the facts on the case, and I'm not going to comment. But the speaker certainly does, and he has said what he has said and the situation is what it is."