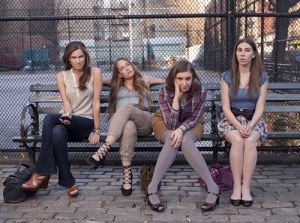 Girls will be back on HBO starting in January, according to a press release today and also Lena Dunham's Twitter feed. That means we only have six months to go until we find out how Hannah Horvath gets home from Coney Island without her purse (as soon as she's done eating that piece of cake from Jessa's pop-up wedding).
A mere six more months until we have answers from the nail-biting cliffhanger at the end of season one: will Jessa stay married to venture capitalist T.J.? Did Marnie go home with that dorky rabbi? Will Shoshanna be one of those post-coital "talkers"? Did Charlie go return to his Target-inspired apartment and commit suicide? Where will the naked picture that Jemina Kirke painted of Ms. Dunham fit into the season's narrative arc? How are the unicyclists involved? And will Adam's hospital stay get him hooked onto painkillers, ruining his sobriety as he turns to alcohol and pills to numb the pain of his broken heart and arm?
We mean, it probably won't be that dark (that last one was actually cribbed from a season premiere of Breaking Bad, now that we think about it), but at least one thing is for certain: there will be at least three New Yorker essays, two NPR interviews, several New York Times articles, and approximately 100 Vulture posts speculating about next season between now and the 2013. And they will all boil down to this one question: Will Season 2 of Girls solve all the race issues in the country with its addition of Donald Glover?
And the answer is yes, it probably will.