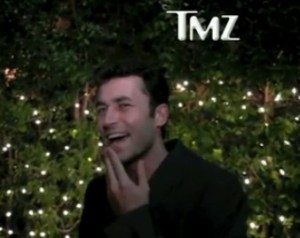 James Deen may be a porn star, but he's still a babe in the woods when it comes to being a celebrity. After being accosted by a TMZ paparazzo outside Mr. Chow in Beverly Hills last weekend, Mr. Deen–who just finished filming Bret Easton Ellis and Paul Schrader's The Canyons with the "super great" Lindsay Lohan–was more than happy to give the digital tabloid some amazingly doofy soundbites.
(This, despite the fact that his lawyer was present, and Mr. Deen seemed to be aware that he shouldn't be talking about the film.)
Let's look at the transcript, shall we? But a quick word to the wise: Don't be fooled by TMZ's headline … Mr. Deen never mentioned that Ms. Lohan helped him climax.
TMZ: How did you like working with your co-star, Ms. Lohan?
James Deen: She's awesome. I have no official comment about her because I don't know what my contract … what's my contract?" (Mr. Deen then turned and introduced his cameraman to his friend.) This is my attorney, so …
TMZ: Your contract? I think it's called a non-disclosure agreement.
JD: I have some sort of like …
Lawyer: (Prompting) She's absolutely wonderful …
JD: No, she was, she was! But I don't have any official, like, things to say about the movie or working with her or anything like that. But working with her was awesome. She's super professional, super great. She's a fantastic actress, and it was really really awesome. I feel like I learned a lot from her. Like in those scenes that we did together, I feel like those were my stronger scenes, because working with a really good actress, or actor or anyone that … I did a scene with Gus Van Sant, and it was another one that I feel like was very strong just because working with people that are really strong actors and very talented and stuff kind of like bring the best out of you. So it was very helpful to me as an amateur."
(And, scene.)
Someone should tell Mr. Deen what "non-disclosure agreement" means. Also, "professional." Also, "actress."
Perhaps this is just genius viral marketing, as we are now more pumped for this movie than ever. We (NSFW) hope it gets released!