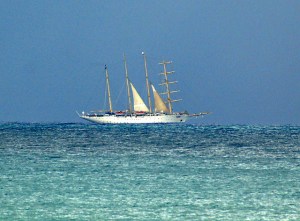 Of all the worries and existential dilemmas that keep America's rich and powerful up at night, tossing in their Frette sheets, few are quite so urgent as the decision to buy a yacht.
Indeed, the wealthy elite of the world have grappled with the question of yacht ownership for as long as humans have sailed the seas. There are endless things to consider: Will my young wife like it? Will it help me get a young wife? Is it a bad investment or a good one? Does it matter?
The answer has been as unknowable as the vast depths of the ocean until now. For its Wealth Adviser video segment, The Wall Street Journal sent an intrepid reporter and cameraman to the ends of the earth (Newport, Rhode Island) to find out once and for all if buying a yacht is a good investment.
T0 investigate, reporter Veronica Dagher climbs aboard the sailing vessel of Jack Desmond, CEO of Cox Engineering. Also aboard: Mr. Desmond's financial adviser TJ Stowers, a partner at Newmar Private Risk Management. What? Don't you always take your financial adviser along when you go sailing?
But it turns out that taking Mr. Stowers along was a terrible idea! He immediately starts shooting down rich people's dreams that buying a boat will be a good investment. "A boat is not an investment; it's a lifestyle choice," Mr. Stowers tells The Journal. "A boat will always depreciate in value."
Mr. Stowers, bearer of bad news, warns viewers to make sure that a yacht is something they really want before they buy it.  Because boats are like cake. You can have your cake and eat it too, but then all you have is a dirty plate.
Still, if you have more than a few hundred thousand lying around, and you pinch your pennies to keep maintenance costs down— Mr. Desmond recommends sailing to the Caribbean every winter because it is cheaper than storing the boat in Rhode Island—you can totally buy a yacht.
And, as the Journal explains, rich people are allowed to buy things that are not good financial investments. Because money may be one of the most important things in life, but it is not the only important thing. Breezing around Newport, the reporter has an epiphany: buying a yacht is an investment.
"It's an investment in your mental health. Owning a yacht is reserved for the wealthy. And many times that wealth comes with lots of stress," Ms. Dagher concludes.
kvelsey@observer.com