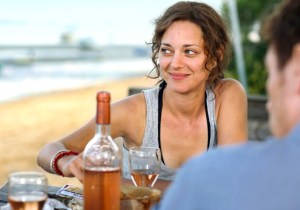 Fans of The Artist's Oscar-winning star Jean Dujardin will be delighted to see that he can do caddish modern-day egotist as well as he does caddish silent-film-era egotist. In the opening scene of Little White Lies, the camera tracks Mr. Dujardin, as Ludo, through a club as he looks for cocaine, brusquely propositions girls, dances like an ape to outdated pop music and finally hops on a motorcycle. The camera trails from a respectable distance—the perfect distance to capture Ludo's motorcycle getting hit by an oncoming truck.
Little White Lies, with its first cut, becomes a radically different film than it might have been: the story of a Parisian rake becomes the tale of a group of friends banding together in the face of mortality. However, they're not supporting the hospitalized Ludo; they're going on a pre-planned vacation that was originally set to include an able-bodied Ludo. Though he can't make it, a sense of foreboding manages to join them on the trip.
Among the vacationers are host Max (François Cluzet), who is obsessive about the quality of his summer home, destroying walls in the hunt for weasels, and Vincent (Benoît Magimel), who's not gay—really! He just really, really loves Max. And has confessed to him. And the two have mutually decided to get past it. Meanwhile, Antoine (Laurent Lafitte) is so obsessed with the texts his ex is sending him that he drives a motorboat onto dry land, while Marie (Marion Cotillard), Ludo's former girlfriend, feels regret over leaving Ludo's bedside and a palpable boredom with her old routine of seducing that she can't help but keep enacting.
If this sounds like a strange mélange of comedy and drama, well, it is, in precisely the manner of The Big Chill, the new classic that Little White Lies emulates down to its soundtrack of American pop and rock standards. The characters are purposefully distracting themselves from aging and death by discrediting the louche persona of the absent Ludo, whose vices have made him the first of the gang to suffer major misfortune. And yet their distractions lend the film its humor, as the viewers' attentions, along with the characters', drift far from his hospital room. The performances and, in turn, the on-screen relationships indicate the sort of chemistry only a group of longtime friends can share.
Yet the diversions of the group are indulged for far too long. Like a real vacation, Little White Lies goes from fun to exhausting around the halfway mark, as certain scenes drag on. Why are we spending movie minutes watching the gang frolic in the water to Creedence Clearwater Revival? And why, when the water sports get too vicious and lead to a breakdown that has Marie screaming at her friends, does the camera cut away just as she's reaching high dudgeon? The only consequence is that Marie gets revenge—we suppose it's "revenge"—by spraying one of her tormentors with whipped cream. It's not that the film is too long, necessarily. It's that director Guillaume Canet (Ms. Cotillard's real-life partner) is too much a member of the group, seeking to convey minor incident at length while pushing major developments onto the back burner—often presented mute with a pop soundtrack overlay. The actors deserve better.
And when they're given the space to really act, the cast works wonders. Ms. Cotillard, who has struggled in English-language films despite having been given opportunities to work with practically ever major filmmaker in America and Europe, feels here like a newcomer, or perhaps a comeback artist. The dull Christopher Nolan days are forgotten. Rather than playing some outsized femme fatale or object of desire, Ms. Cotillard nails the role of a woman afraid of her own future, and haunted by her past. Mr. Magimel does his part as well, in the story line in which Mr. Canet's refusal to commit fully to high drama actually succeeds: we never get a full sense of how or why Vincent realized he was in love with his best male friend, and there's no tiresome exposition. The film, in this case, seems like the best part of hanging out with longtime friends—information just bubbles from the ether, its origin forgotten.
By the time the film ends, the characters have all reckoned with their selfishness—and their apparent lightheartedness, and seemingly ironic fun, throughout seem almost savagely insouciant. The movie justifies, in some sense, its focus on the fun that Marie, Max and company have had when it finally indicts them for their cruelty to Ludo. While it takes some work and attentiveness to get to this point, the film's evolution into a critique of 30-something self-absorption makes it a small-scale success.
LITTLE WHITE LIES
Running Time 154 minutes
Written and Directed by Guillaume Canet
Starring François Cluzet, Marion Cotillard and Benoît Magimel
Three out of four stars