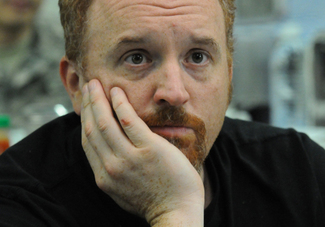 The star of FX's Louie—widely considered to be the comedian of the moment— Louis C.K. is a tough ticket these days, especially for New Yorkers, whose venues are almost never big enough to accommodate either the sold-out crowds or the greedy hands of ticket scalpers. This principle was demonstrated to especially pronounced effect earlier today, when Brooklyn venue The Bell House announced that he would be testing out an hour of new material tonight. Not just for one show, but three separate shows.
Three separate shows that have since sold out and infuriated people.
11:01 AM: The shows are announced, along with ticket sales: "TONIGHT: Louis CK works on his new hour of material @BellHouseNY! 7/9/11pm shows! $10 2 tix limit, cash only via our box office, open now!" Anyone who wants tickets would have to make their way to Brooklyn.
1:14 PM: The 9PM show is sold out.
1:21 PM: The 11PM show is sold out.
1:26 PM: The 7PM show is sold out.
Now, despite the fact that this is the most fair way possible to go about selling tickets for a concert—only the most devoted and available fans can go, limited to two tickets each, at a reasonable price, without much room for scalping—two universal facts of buying into a ticketed event in New York City emerged:
1. People are pissed that they didn't get tickets.
"It is really sucky that you can't release some tickets online. I guess this is what we get for being responsible and working."

"doing it on sunday would have been better 🙁 especially for us desk jockies…"

"why aren't you selling them online?! Why must you only reward the unemployed??!!"
2. Despite all the measures taken to deter re-selling, people are scalping the tickets on Craigslist.
2:08 PM: "Please make your best offer and I will get back to you if it's in the ballpark."
4:14 PM: "$30 or best offer."
It'll be interesting to see how that works out, seeing as how ticket buyers to tonight's show will need to present their IDs as the ticket buyers to get in. But the lessons put on show here are pretty clear: Every live event in New York City will inevitably leave someone upset, and supply-demand economics and a capitalist hunger for profit extends to even the most ostensibly respectable of fanbases.
fkamer@observer.com | @weareyourfek