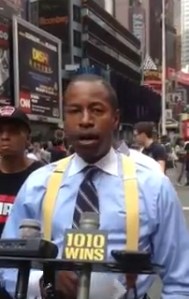 At a highly anticipated press conference in the middle of Times Square, Queens State Senator and potential mayoral candidate Malcolm Smith took Lil' Wayne to task for saying he doesn't like New York City in an interview earlier this week. The senator began by repeating Mr. Wayne's offending comments for the benefit of the handful of reporters who braved the crowds of tourists to witness Mr. Smith's denunciation of the rapper.
"Let me read you a statement, one word–a couple of words that came from Lil' Wayne today and here's what he said: 'I. Don't Like. New. York," Mr. Smith said, slowly reciting each outrageous syllable of Mr. Wayne's five word comment for emphasis.
Mr. Smith went on to explain why he took "strong exception" to Mr. Wayne's comments and would like the rapper to issue a formal apology.
"Here's my response to Lil' Wayne–and this response is on behalf of the 50 million tourists who come here and make New York City their home for two weeks out of the year, for the eight million people that live in New York," Mr. Smith said. "Very simple, if you don't like New York, you don't have to come to New York, you don't have to sell your products here and, perhaps, we won't come to your concerts. I can tell you as someone who's raised my family here, I've taken strong exception to the words, 'I don't like New York.' I love this city. I was born and raised in this city."
Mr. Smith described Mr. Wayne's remarks as an affront to two New Yorkers in particular.
"He should also know, anecdotally or not, he's also insulted the memory of Frank Sinatra and he's also insulted Jay Z," Mr. Smith said, adding by way of explanation, "Both have made endearing songs about New York."
Mr. Smith said he felt obligated to launch his crusade against Mr. Wayne because he is from Hollis, Queens, which in spite of extensive documentation describing hip hop's roots in the Bronx, he described as "the home of the origin of hip hop." He also noted Mr. Wayne's protege, Nicki Minaj, comes from his district.
"It is my hope and I believe and I want to believe that he had a lapse in mental judgement for some strange reason and I hope that he will think about it," said Mr. Smith. "Perhaps Nicki Minaj, who makes her money here, who's made a lot of money for Lil' Wayne will whisper in his ear, 'I think you made a mistake.' New Yorkers are forgiving people. We're prepared to forgive Lil' Wayne if, in fact, he makes a sincere apology."
Of course, Mr. Smith didn't attempt to take on such a weighty issue on his own. He was joined by a man he described as "a good friend of mine," Charles Fisher of the Hip Hop Summit Youth Council, who suggested Mr. Wayne's comments could lead to a violent rap war without Mr. Smith's intervention.
"With all the killings and murders going on today we have to be proactive," said Mr. Fisher. "Sixteen years ago, Tupac Shakur was murdered and Biggie Smalls came right after that….We can't afford to have a war between New York and the South. Lil' Wayne is out of Atlanta, grew up in New Orleans."
Mr. Fisher said the only solution to this violence would be to "get Lil' Wayne together with the Senator to see what we can do to work together and stop the violence."
Mr. Smith also presented the patriarch of a seemingly random family of British tourists to respond to Mr. Wayne's remarks.
"Hi. I'm Francis, I'm from London. This is my family; Alison, Josh and Samuel," he said pointing to his wife and children. "We got married today in New York and we love New York. That's it, thank you very much."
After all of the speakers were finished, Mr. Smith took a few questions from the assembled reporters. Politicker asked him if he had been a fan of Lil' Wayne's music prior to his controversial comments about the city. Mr. Smith conceded that his 19-year-old daughter "kind of likes" the rapper.
"I might enourage her not to buy [his music] until the apology comes," Mr. Smith said.
Though Mr. Smith is a Democrat, he's currently mulling a run for mayor next year on the Republican Party line. We asked him how he'd handle the Lil' Wayne situation if he was currently in City Hall.
"I don't want to get into hypotheticals," said Mr. Smith. "Right now, I'm dealing with the circumstances as the state senator from New York."
Watch a video of Mr. Smith's press conference below.
[youtube http://www.youtube.com/watch?v=mUzm-xTl9jk]