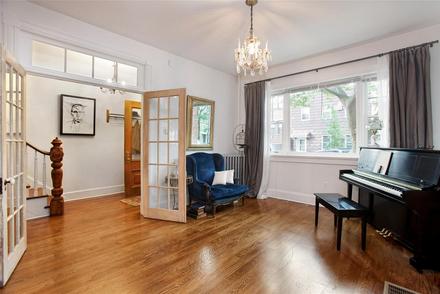 After a lifetime of compliments, the four-letter "u" word hit male model Josh Wald particularly hard when he encountered it, quite possibly for the first time, after listing his freshly-renovated house at 87A Guernsey Street in Greenpoint.
The New York Times reports that Mr. Wald, who has appeared in everything from Dolce and Gabbana to Dockers ads, was shocked, shocked, to be on the receiving end of an insult.
"For the record," he told The Times, "my mom probably doesn't quite understand what a blog is!"
Oh, to be young, beautiful, and so unaccustomed to criticism that having one's house called "uglayyyy as sin!" by a commenter on a blog sets off a family conference. But Mr. Wald designed the renovation himself, The Times notes, so comments such as "It all feels very college student with a chunk of cash," really, really hit home.
"If someone seemed like they knew what they were talking about, then O.K., they can have a difference of opinion. But if it's just ignorant blabber, then it just seems like Web chat out of control," Mr. Wald told The Times.
But slightly nasty comments aside (one questioned the use of shingles in Greenpoint—a fair aesthetic criticism, at least from a historical perspective), neither the Curbed nor Brownstoner posts were mean at all. When and how they did mention the home's new look, it was strictly factual, quoting directly from the Prudential Douglas Elliman listing, or complimentary. "Not that we have anything against the house itself (how could we?)," wrote Curbed.
Indeed, the home is, if anything, in such bland good taste that it makes for an incredibly disappointing piñata and generated fairly tame barbs (the harshest criticism seems to be that the renovation would have been more successful had Mr. Wald hired a professional architect to oversee the conversion from a three-family to a single-family property).
It seems that what really set the commentators off in the first place was the audacity of the home's asking price—$2.5 million, which is more than twice the price Mr. Wald paid for the home three years ago. Not only that, but if the home sells at ask, it would set a neighborhood record, both for single family home and price per square foot. So it would seem that the renovation might be a legitimate thing to scrutinize? Especially given that Mr. Wald said that he expects to buy, renovate and flip more houses in the future? If you expect to flip a house based on the beauty of a renovation, isn't the renovation's beauty fair game?
kvelsey@observer.com