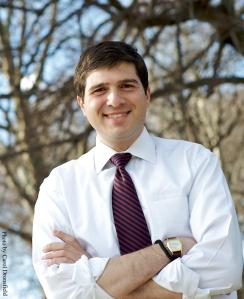 State Senator Marty Golden unveiled new legislation this morning that would target those stashing "community guns" for others to use while avoiding carrying a gun for police to find traveling between locations. The move quickly earned the praise of Mayor Michael Bloomberg, but Democrats are arguing that it is merely an attempt to shift the discussion away from a key issue that they have been steadily hammering him on for some time. Just two days ago, Senator Mike Gianaris, the head of the Senate Democrats' campaign efforts, called Mr. Golden out on his lack of support for microstamping legislation while on Inside City Hall.
"Faced with mounting criticism over his poor record on actual gun safety, Golden is trying to deflect attention from his record and steal some headlines to create the illusion that he is tough on crime," the press release declared, pointing to Mr. Gianaris' recent package of gun control legislation as a more proactive solution.
"Golden claims he wants to keep guns off the streets but his bill is all about guns already on the streets," Mr. Gounardes said in the statement. "The problem is that the NRA and the gun lobby do not care about keeping guns off the streets. Sadly, Golden's bill reflects that mindset."
"I'm ready to pass common sense bills," he said without weighing in further on Mr. Golden's proposed bill. "I want New York to be number one when it comes to gun control. Unfortunately, my opponent seems more intent on pleasing upstate Republican leadership and the gun lobby."
While gun control might not be popular in a lot of Republican-held Upstate districts where hunting can be ingrained in the culture, Democrats are clearly hoping that they can sink GOP in districts like Mr. Golden's Brooklyn one with the topic, elevated by a recent wave of violence and Governor Andrew Cuomo's indication that he's vaguely amenable to doing something in the next session, but only specifying his support for microstamping legislation.
For their part, the Senate Republicans have argued that they are open to additional measures to control illegal guns, but have also pointed out that relative to most states, New York is already fairly strong on the issue.
"We agree with the Governor that more can be done to combat criminals who use illegal guns, which account for the overwhelming majority of gun crimes in New York," Senate GOP spokesman Scott Reif responded the last time Mr. Gounardes attacked Mr. Golden on guns.
Update: Mr. Golden's campaign manager fires back on the issue in a statement of his own:
"The only illusion here is the belief that Andrew Gounardes is qualified to be a New York State Senator. To insinuate that Marty Golden doesn't care about the safety of his constituents is not only laughable, it's insulting. Senator Golden was severely injured in the line of duty serving as a New York City Police officer. Crime and Safety issues have been the cornerstone of his legislative career and that's why he has been endorsed by numerous police and law enforcement organizations. Andrew has not. Bottom line, no one in this race knows more about the safety of New Yorkers than Senator Golden as he's the only person in this race who has put his life on the line for his community."
Update: And now Mr. Gounardes' campaign manager writes in a response of his own:
"If Golden wants us to believe he has the best public safety credentials, he should explain whether he is for or against these ten bills which have the support of the PBA, DEA, and CBA, the same organizations whose support Golden touts as the basis for his public safety credentials. We already know he walked out on microstamping, so unless he's changed his mind, we know where he stands on that common sense bill that law enforcement organizations support. Andrew Gounardes looks forward to passing bills that make our neighborhoods safer. Unlike Marty Golden, he believes we don't have to accept the status quo when it comes to the amount of guns on our streets. And unlike Marty Golden, Andrew is not afraid to stand up to the gun lobby and the NRA."