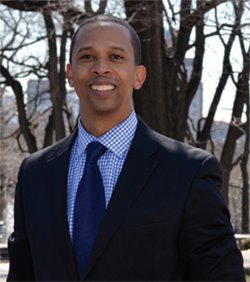 Assemblyman Hakeem Jeffries is currently catapulting his way to Washington D.C.  and the campaign to replace him in his Fort Greene-based assembly district continues to heat up. To wit, Borough President Marty Markowitz weighed in this afternoon and formally endorsed District Leader Walter Mosley for the job.
"Walter has the energy that it takes to tackle the big problems in Albany," Mr. Markowitz said in the statement. "He is a smart and passionate public servant who understands that coalition building is key to getting things done in a borough as diverse as Brooklyn. I am thrilled to support him for Assembly in the 57th district."
Mr. Mosley is currently in a three-way race against his fellow district leader Ola Alabi and Martine Guerrier, the chief family engagement officer for the city Department of Education. But it is Mr. Mosley and Ms. Alabi who have dominated most of the discussion, and for good reason: they have been rolling in notable endorsements with significant electoral sway in low-turnout primaries.
Ms. Alabi has already announced the support of DC37, UFCW and the Correction Officers Benevolent Association, while Mr. Mosley has the support of some of the area's elected officials, including Public Advocate Bill de Blasio, Council Member Letitia James and Mr. Jeffries himself.
With Mr. Jeffries' full backing, this election might serve as a test of Mr. Jeffries' political organization. He absolutely dominated in his congressional primary against Councilman Charles Barron in June, but it remains to be seen if Mr. Jeffries can turn the keys and ignite all of those same prime Democrat voters on behalf of another candidate.
Voters head to the polls on September 13th.