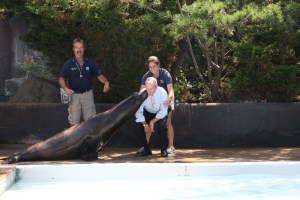 Yesterday afternoon, Mayor Michael Bloomberg helped unveil a new shark tank aquarium in Coney Island, and as part of the display, he ended up sharing a smooch with a certain lucky aquatic mammal.
But on John Gambling's radio show this morning, Mr. Bloomberg found himself on defense over that special moment.
"Not much going on," Mr. Gambling said of news in the city. "It had to be pretty slow, I saw you down at the aquarium getting kissed by a seal or something."
"You're just jealous," the mayor jokingly shot back. "I think that's what it comes down to. You sit here and thousands, tens of thousands of people listen to you every day and all you do is think about me getting at the aquarium."
When asked, Mr. Bloomberg said he has never been kissed by a seal before, stating, "Negative."
Though he clarified, "I think it was a sea lion,"
"Was it?" Mr. Gambling asked, "Now you tell me."
Mr. Bloomberg went on to describe the experience.
"They train, they just come up to you, he holds his nose with a lot of whiskers next to your cheek," he explained. "He just holds it until the trainer stops him and hands him a fish. Every time he does another trick the trainer throws him another fish."
"It's a pretty good deal," he mused. "The sea lion gets free fish, it's safe, and people learn about the environment and all of the different creatures that God made."
The mayor, of course, is no stranger to smooches. He kissed Miss Piggy the other day, and infamously shared a peck with Lady Gaga to celebrate the new year. He has previously asserted that his girlfriend Diana Taylor is a superior kisser, however.