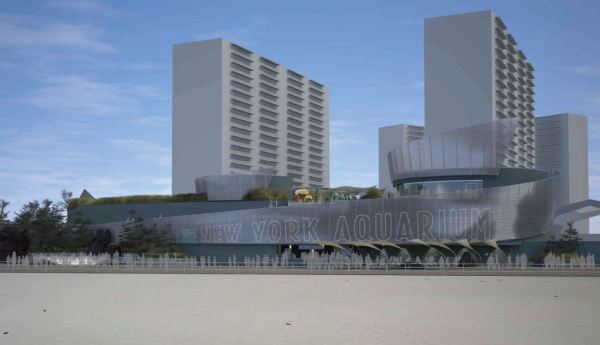 Mayor Michael Bloomberg took a stroll down the boardwalk this afternoon to the New York City Aquarium in Coney Island, where he announced that new city and private funds would help pave the way for an expanded aquarium, complete with a fancy new shark tank.
"From the start, the exciting expansion and renovation of the New York Aquarium has been a vital part of our efforts to revive Coney Island," Mayor Bloomberg said. "The project is going to make the Aquarium much more visible and visually exciting to Coney Island's thousands of visitors—from those strolling the Boardwalk to others visiting the Aquarium itself."
The aquarium has changed little since it first opened in 1957 on the boardwalk, and while this latest expansion will not be quite as big as one planned six years ago, it is an improvement over an earlier scaled-down proposal that contained little more than a shark tank.
A shark tank remains at the heart of this one as well, but it is one serious tank, with 500,000 gallons of water and 115 species inside a new 57,000-square-foot exhibit building. A new striking façade is meant to make the building a real attraction as it faces off with the ever-expanding Luna Park next door.
The city pitched in $93 million, up from $49 million two years ago, and the Wildlife Conservation Society is kicking in the remaining $33 million, of which $11 million has been raised. Part of that is a $7.5 million donation from society trustee Barbara Hrbek Zucker and her husband, Don Zucker, that was announced today.
As always, Marty Markowitz had something clever to say: "Usually, the cry of 'shark!' means fewer visitors to the waterfront, but here in Brooklyn, it'll mean more!"