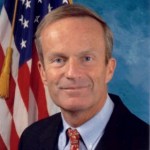 Note to politicos: Start musing aloud about legitimate rape and watch your poll numbers sink.
That seems to be the case in Missouri, where incumbent Democratic Senator Claire McCaskill has opened up a 10 point lead over her challenger, Congressman Todd Akin in the latest Rasmussen poll. Mr. Akin, of course, burst onto the political scene earlier this week when, during an otherwise routine local TV interview, he stated his objection to abortion even in cases of rape.
"It seems to me, from what I understand from doctors, that's really rare," Mr. Akin said about the chances of getting pregnant due to rape. "If it's a legitimate rape, the female body has ways to try to shut that whole thing down. But let's assume that maybe that didn't work or something: I think there should be some punishment, but the punishment ought to be of the rapist, and not attacking the child."
The poll released today was taken yesterday, and it gives Ms. McCaskill 48 percent, and Mr. Akin just 38 percent, among 500 likely Missouri voters. Nine percent said they preferred another candidate, and 5 percent counted themselves as undecided.
A previous Rasmussen poll, from July 30–before Mr. Akin won the GOP primary in an upset–gave him a three-point lead over Ms. McCaskill.
Republicans had counted on Mr. Akin's ousting Ms. McCaskill as crucial to their hopes of taking back the Senate. Her approval ratings have consistently been under 50 percent, but even before Mr. Akin started spouting his theories about female biology, he remained the Republican she fared best against.
Republicans around the country have been hoping that a string of low poll numbers, plus a drying up of the money–as many conservative groups have pledged–convinces Mr. Akin to get out of the race.