A local newsman is reminded just how vile some of his contemporaries can be, Amy Sohn gives the best interview of her life, and a whole bunch of media moves are unloaded in Friday Evening's Media Briefs:
Nice Reporter Reminded of Vile Nature of Local News Colleagues: NY1 reporter Roger Clark ran into some static while covering today's shooting at the Empire State Building. Here what it looks like to be on the scene of breaking news with your media colleagues from the perspective of a decent and sensible human being: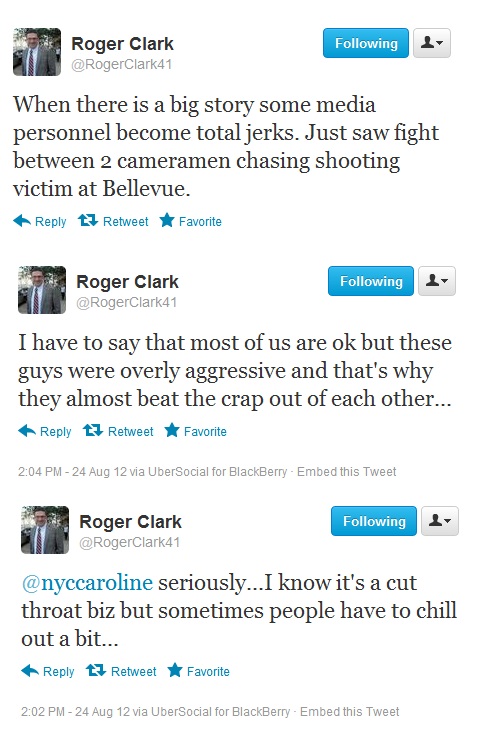 [via @rogerclark41]
Daily News Gossip Section Already Cozying Up to Subjects: Here's a way to promote a new gossip section: show up to one of these charity non-events featuring a celebrity of note, and get her to pose with your new gossip section, so long as you mention the cause and the celebrity's name several times like her publicist no doubt required someone to do. Anyway, here's Kate Upton reading a newspaper [SPOILER ALERT] fully clothed. [NYDN]
Amy Sohn Gives Compelling Interview About Life in Park Slope by Snubbing Interview: Gothamist's Jake Dobkin likes to remind everyone now and then that he was around in 2004, too. He "interviewed" author Amy Sohn via a series of questions she unilaterally refused to answer, all of which are enjoyable, and actually make me remember 2004, when Amy Sohn probably would've answered some of these questions. [Gothamist]
The Tavi/Ira Glass Connection! Explored in full at The Wall Street Journal? Yes, it is. "His jokes are met with a not uncommon eye roll, but their rapport is a sweet one." Takeaway: If you haven't figured it out by now, Tavi Gevinson is the Glenn Beck of teenage girls who buy old copies of Sassy on eBay. [WSJ]
Media Moves: All Things D's Kara Swisher is apparently going to be writing for Vanity Fair now after Graydon Carter finally got serious about tech coverage five years after everyone else, no doubt for a Michael Lewis-esque glory contract, but only a freelance one. She'll stay on at All Things D, otherwise. [Betabeat] … Talking Points Memo's senior associate editor, Paul Werdel, is headed over to The New York Times to join their mobile apps team, which, odd, but if the editor fits … [@cschweitz] … Business Insider writer Simone Foxman is leaving Henry Blodget & Co. to go work on Atlantic Media's new business site, Quartz. Foxman wrote for BI's Money Game vertical. Meanwhile, Quartz still isn't up and running yet, but it is sending out newsletters; in a recent mailer, Quartz editor Kevin Delaney linked to his interview with Talking Biz News and elaborated on some of the topics the site's going to cover, including "The technology of finance, Transnational crime, Startups outside of the U.S. and Europe, China's energy needs," you know, that kind of very obvious thing. [@simonefoxman] … Over at NY mag's The Cut, Stephanie Trong is officially out as editorial director, which would explain why Stella Bugbee was introduced by that title at the site's press preview a few weeks ago. Also of interest there is WWD's Amy Wicks's report on Trong's departure, which notes that "Sources speculated that Trong, who previously was deputy digital editor at Lucky, was asked not to return." Under the item is a comment: "'Sources speculated' = 'Unnamed and probably malicious gossips slandered.' Awesome journalism, there." Actually, it's the first two things, and the third one, as well. [WWD/MemoPad] … GQ has replaced multimedia editor Sean Fennessey (who was poached by Grantland LIKE WE SAID HE WOULD BE) with former GQ senior associate editor Kevin Sintumuang, last seen at The Wall Street Journal as the "Off Duty" section's features editor. Also, via FBNY: "Ted Stafford has been promoted to fashion market director, and Will Welch has been promoted to senior editor, style." But no mention of whose associate editor gig is posted on the MediaBistro job boards right now? [WWD/MemoPad, FBNY, MediaBistro] … It wouldn't be a Media Moves memo if BuzzFeed weren't hiring, and of course, it is. It just stole Rebecca Berg from the Times's D.C. bureau. [FBDC] … PaidContent's Senior Writer and Editor Stacey Kramer is out after eight years. She penned a nice eulogy to those eight years over there. [PaidContent]
– – –
Tips? Kara Swisher's Vanity Fair contract? Two-month-late "Call Me Maybe" covers? Homemade sorbet recipes? Put 'em here.
fkamer@observer.com | @weareyourfek