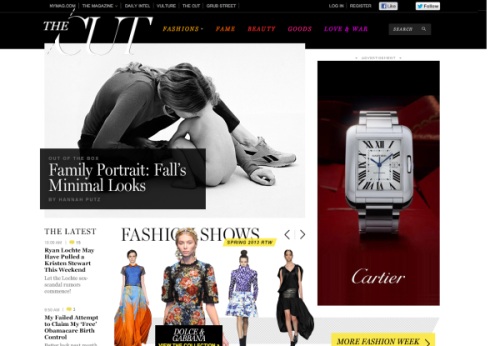 New York is launching a new site (or "channel"), and media reporters got a gander at it today. It has a very impressive technological feature that isn't "It writes itself." Elsewhere, Gossip Girl's greatest media cameo ever is on the way, while Lena Dunham's New Yorker byline was most certainly more than a cameo. Also, somewhere, a former Times CEO is busy not caring about the fate of About.com because she has more money than any of us. Here are your Wednesday Evening Media Briefs:
Sharp Cut: Media presentation this morning at the New York magazine offices for the launch of its new version/relaunch of The Cut, its shiny fashion channel and women's lifestyle site that will compete with the likes of Jezebel, Double XX, The Hairpin, the Buzzfeed version of those, etc. In the room were New York editor in chief Adam Moss, digital editor Ben Williams and publisher Larry Burstein, along with The Cut's editorial side, including New York's fashion editor Amy Larocca, The Cut's new features editor (and Gawker escapee) Maureen O'Connor and The Cut's creative director Stella Bugbee. They also, as has been noted elsewhere, had City Bakery coffee for the crowd. Which was nice.
The short version: They've been working on it for a year. It's coded in HTML5 and CSS. It's shiny and looks like a sharper version of the current iteration of Vulture (see above). The verticals for the site are "Fashion," "Fame," "Beauty," "Goods," and "Love & War." From what we heard, the "Goods" vertical appears to be the place New York will eventually jump into serious in-house e-commerce business; for now, there's a click-and-buy component that links out. The most impressive technical feature is a zoom-and-scan on enlarged, hi-res images that works on desktop and mobile operating systems pretty seamlessly, and will be used for most of the images on the site in a gallery/slideshow form. Question: where the hell are they storing all that data, and how much is it costing them to do it? Site's set to launch on Monday. Forty posts a day, 11 full-time staffers, seven of whom are new hires (one of whom is Observer alum Kat Stoeffel, who has already started delivering the bloggy goods in typically sharp form). The gathered crowd wasn't let out of the room before they could spit numbers at us: digital ad revenue at New York now makes up 40 percent of their total ad revenue, as opposed to 20 percent in 2008. Moss-ian takeaway quote: "There was always a logical opportunity [in womens' lifestyle content] we never took advantage of." Well, this is that. Again, it launches Monday.
Gossip Folks: Also, speaking of New York: Whoever's writing Gatecrasher these days (before Nate Freeman saves the New York Daily News in fully bylined glory) has a buried item today that Chris Rovzar (formerly of New York and currently of Vanity Fair's website) and Jessica Pressler (New York) are making a cameo appearance on the final season of Gossip Girl along with The Nation editor Katrina vanden Heuvel. While working together on New York's Daily Intel, Rovzar and Pressler created the Gossip Girl Reality Index back in 2007 when the show first debuted. The regular feature became a decent hit among Daily Intel readers, Gossip Girl enthusiasts, and the cast and crew of the show. And yet: someone, somehow thought it was a good idea to put Jay McInerney on the show before either of them. [Gatecrasher]
Bylines with Benefits: Girls auteur Lena Dunham recently had a story published in The New Yorker à la Jonah Lehrer (i.e. it had already appeared somewhere else first), and then, we see the debut of The New Yorker's iPhone app, which features an infomercial starring/written/directed by her too! Or to quote another onlooker: "Getting published 1st time in New Yorker being followed by hosting of 5-minute commercial for New Yorker is what we call 'bad sequencing.'" [@TedNope, Gawker, The New Yorker]
Damnit, Janet Pt. VIII (Or: About About.com): The big news today was that the Times finally managed to get rid of About.com, of which (golden-parachute-lined) former Times CEO Janet Robinson constantly defended until it was worth way less than they paid for it. Whoops! Rather than bore you with unnecessary links or reading on it, WWD reporter Erik Maza helpfully threw a decent history of About.com and the Times together on his Tumblr. Go read it. [Erik Maza]
Old Fresh Produce: People really love the new cover of Newsweek, or they did, when it ran in Harper's Bazaar in 2006. [Eater]
Another Day, Another News Corp Journalist Arrested: This time, for bribery! [The Telegraph]
Journalist Willingly Begins Transformation Into Robot: We always knew Ben Popper was ambitious, but we didn't think the Observer/BetaBeat alumnus and current staffer at The Verge would willingly turn himself into a robot for an employer. At least not this soon. Popper had a magnet implanted in his finger, and it's all on tape. Watch your keys around this guy. [The Verge]
Aaron Sorkin's Ideal Journalist Doesn't Ask Questions About His Ideal Journalists: Would Newsroom showrunner Aaron Sorkin ever lie to a reporter about firing his writer's room, possibly to skirt responsibility for writing such a terrible first season of such a widely anticipated TV show that they had to have an HBO flack individually call critics to apologize for repurposing their quotes so crudely? Probably. But rather than just take a crack at it, Vulture actually went and got proof. [Vulture]
Journatic Jobs Cut: People got laid off from Journatic. Don't act surprised. [Chicago Business]
Donald Trump, Media Critic: Watching Donald Trump dole out media criticism is like seeing Rush Limbaugh start a "Thinspo" Tumblr, but with lesser dividends on the table and more of a nihilism-as-content model in action. Should go well. Looking forward to the full-scale launch soon. [Politico]
GABBY GABBY HEY: "Traffic-obsessed blogs often truck in sensationalistic racism and sexism, or equally sensationalist reports of such, to get hits." Guess which blog this Ebony article is describing and who it is sensationalizing to get it? The answer may not surprise you! [Ebony]
The New York Troll-Lolo Times: Then again, if the New York Times is in on this trolling game—and winning—who isn't? [Jezebel]
Tips? Suggestions? Limeade recipes? Unique ideas for what to do with leftover mason jars? Janet Robinson sightings in Turks and Caicos? Please, by all means, send 'em here.