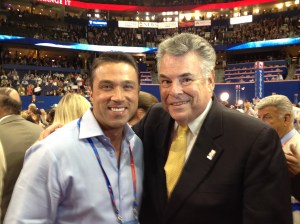 TAMPA, FL — Staten Island Congressman Michael Grimm arrived at the Republican National Convention in time to see his party's vice presidential candidate, Paul Ryan, make his speech. Mr. Grimm told Politicker he was quite pleased with Mr. Ryan's remarks.
"I think he delivered. First and foremost, the great thing about Paul Ryan and, you know, I've gotten to know him pretty well, is his sincerity just shines through," said Mr. Grimm. "When he gets choked up speaking about his mom, it reminds me of when I speak about my dad. It's just, it's real, it's not contrived. It is who he is and I think that comes across in everything he says."
Mr. Grimm is currently dealing with an FBI probe and allegations of potential impropriety surrounding donations he received from an influential rabbi. In the wake of the fundraising flap, Mr. Grimm was removed from the list of convention delegates for Republican presidential candidate Mitt Romney. Mr. Grimm initially said he wouldn't be attending the convention due to weather concerns caused by tropical storm Isaac, which lead to speculation among insiders his potential absence was related to the fundraising flap. Mr. Grimm told us the rumors surrounding his convention attendance were "utter nonsense."
"It's very, very simple. I wasn't feeling that well and the weather was supposed to be bad, so I rested for a day. If that's a story, then God bless them," he said. 
At the convention, Mr. Grimm was pleased with the way Mr. Ryan's criticisms of President Barack Obama.
"I think some Republicans have been frustrated that we haven't called out the President on a lot of things and Paul Ryan did that tonight. He just laid it out there–not in a nasty way, which I think is good," said Mr. Grimm. "He just put it out there in an honest, blunt way saying, 'You've said what you were going to do and you didn't do it. You failed and now we've got to do it the right way."
Specifically, Mr. Grimm said he appreciated Mr. Ryan's stance on Medicare, which he described as a valuable addition to the Republican ticket.
"He came right at Medicare, extremely important, reminding Republicans that this is a fight that we should have," Mr. Grimm said. "Mitt Romney was candidate enough and American enough to take on that big fight when everyone said, you know, 'That's crazy.' That's why he brought in the big guns–Paul Ryan."
Mr. Grimm is often accompanied by his Yorkshire Terrier, Sebastian. He said his mother and sister are making sure the dog is "well taken care of" while he is in Florida for the RNC.
"As a matter of fact, I'm sure he was sitting on the couch watching the speech with my mom," said Mr. Grimm.
We asked Mr. Grimm whether he thinks his dog is as much of a fan of Mr. Ryan as he is.
"I know he is," Mr. Grimm said.