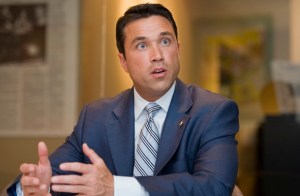 The Russian community's growing political influence has been profiled by publications ranging from the Wall Street Journal to The New York Times, especially in regards to their role in electing Congressman Bob Turner. Since then, Russian-born State Senator David Storobin won an upset special election, drawing even more attention to the community. Now, Congressman Michael Grimm is campaigning for reelection in a congressional district with one of the nation's larger concentration of Russian voters, and he seems to know it.
On a Russian-language radio show yesterday evening, Mr. Grimm announced that he would be co-chairing the recently-formed Congressional Russia Caucus along with Queens Congressman Gregory Meeks.
"I spoke with Congressman Gregory Meeks on the Democratic side, who's not only a colleague but a friend, and expressed my interest in becoming a co-chair of the Russian caucus," Mr. Grimm explained in a friendly interview on DaNu Radio. "It's an example of me reaching out to the Russian community. To say, number one, I recognize that you're a big part of my district and a tremendous part of this community, and I want to be part of that, I want to reach out."
"It's my way of reaching out to the community and making sure everyone in the Russian community knows they have a representative that wants to learn more about their culture and absolutely knows 100% I work for them," he added. "I take pride in that. I'm proud to say I work for my constituents."
Mr. Grimm is facing off against Democrat Mark Murphy in a district that includes all of the Russian community in Staten Island and small pieces of it in Brooklyn. Many see his race as becoming increasingly competitive, and picking up a few Russian-speaking votes certainly couldn't hurt Mr. Grimm.
Asked what he would focus on with the new position, Mr. Grimm cited possible trade agreements with Russia and cooperating with the country in containing Iran.
"I listen and the best way for me to get to know different ethnic groups like the Russian community is to join the caucus and find out what issues are extremely important to them and to work on those issues," he said. "It gives me entre to the community in a way that I would't have before."
Mr. Grimm also referenced his trip to Israel last year and said he aimed to do the same thing with Russia should he be reelected.
"The other thing about it is that I'm very excited that, hopefully, I'm going to travel to Russia, again, as a way to show that I'm very interested in their issues, I want to learn about their culture," he said. "I hope that they will accept me in the same way that I'm accepting them. Last year I had the opportunity — I have a large Jewish population — I traveled to Israel. It was one of the best experiences of my life. I absolutely loved Israel and I'm sure that I'm going to enjoy my trip to Russia just as much."