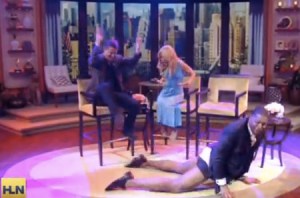 From the NFL to FOX (FOXA) sports to Live! With Kelly–Michael Strahan must have himself a really good publicist. Rumors abounded on TMZ yesterday that the New York Giants defensive end would finally fill the empty chair left vacant by the departure of Regis Philbin last November.
This morning, WABC, a syndicate of the network that produces the morning show, announced that the 6-foot-5 Fox Sports commentator would be offcially joining the 5-foot-3 human percolator on September 4.
Which leaves just one question: Out of all the 59 hosts that ABC has used as rotating guest hosts, why Mr. Strahan, a name that carries far less cachet than say, NY1's Pat Kiernan, Mario Lopez, Seth Meyers or Alec Baldwin?
According to one television insider, the choice of Mr. Strahan speaks more to his new television partner's status than it does to his own. "Kelly was able to host the show for so long because she had so much sway over the producers. While it's easier to book a celebrity guest host for one day than a permanent replacement, there is no doubt that many  pop-ins were bigger stars than Mr. Strahan."
So Ms. Ripa just likes watching the guy strip:

The thought being that now that Ms. Ripa is the bigger personality on the program, she doesn't want to be overshadowed by another Regis-like figure. Even though kids these days might think of  Mr. Philibin as that old guy who once hosted Who Wants To Be a Millionaire, in 2004 he entered the Guinness Book of World Records for most hours in front of a television camera (15,188 of them, to be exact).
And while Mr. Strahan might not be the most obvious choice–though he was adorable when he filled in during a June taping–Ms. Ripa should have no fear about becoming the sidekick to a bigger star. In related news, Mr. Strahan will be keeping his gig on Fox NFL Sunday, meaning that Fox doesn't view ABC's morning show as competitive with its own brand.
Agreeableness all around! Now, how often do you see that in television or sports? ABC and Ms. Ripa have yet to make an official comment on Mr. Strahan's new position, but don't be surprised to find Mr. Strahan sitting in Mr. Philbin's old chair in two weeks.