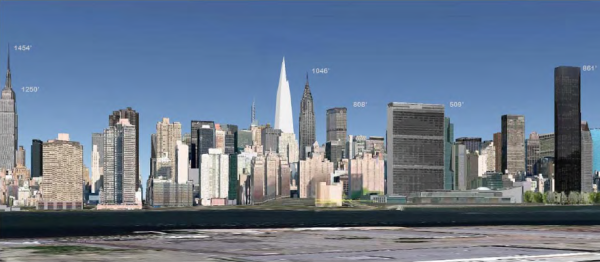 Easy does it. That is the message from Councilman Dan Garodnick, echoing concerns of two Midtown community boards, that the Bloomberg administration is moving too fast in its plans to rezone Midtown East to allow for taller skyscrapers.
The Councilman, who represents the eastern flank of Manhattan, applauded the plan in a letter [PDF] to Planning Commish Amanda Burden last week shared with The Observer, but he worries to plan is so complex, it needs more time to be considered. The Department of City Planning argues there is enough time to get the job done before the Bloomberg administration is out in a year and a half.
"It's certainly important to ensure that our Midtown core remains competitive with cities around the world," Mr. Garodnick told The Observer. "At the same time, we need to approach this rezoning proposal deliberately. I understand that the mayor's term has less than 500 days remaining, but that should not be the prime factor in driving the time frame for such an important proposal."
Primarily, Mr. Garodnick wants the scoping session, when the framework is solidified, pushed back six months to March. In the letter, he also criticized plans to release an initial framework in the coming weeks, "before Labor Day—when many New Yorkers are totally disengaged from the political process." The plan was to have the massive rezoning—both in space and scope—enter public review by the first quarter of next year, but pushing back scoping would likely push that into the summer or fall. The rezoning would almost certainly be approved by the next administration as a result.
There is some concern this could scuttle the plan, but Mr. Garodnick sees it as a way to foster a stronger one. "Indeed, there is no harm in having this proposal be initiated by the Bloomberg administration and finalized by the next mayor, whoever it may be, and for it be a shared legacy," Mr. Garodnick wrote. He argues that because the plan will be implemented until 2017, there is no need to rush the rezoning.
In a July 20 letter to the department, Community Board 5 mounted a similar case:
Given the enormous complexity and high stakes for this rezoning, we ask that the Department slow down its timetable so that the community can fully consider and respond to your plans and so that the Department can take the community's concerns and wishes into account, allowing time for town hall meetings, public hearings, and other forums. As a point of comparison, by its own account, the Department spent about five years to develop the plan for Hudson Yards, and just recently, the same amount of time to rezone a stretch of the Upper West Side. Closer to East Midtown, DOT and the Grand Central Partnership have spent nearly three years thus far to develop the plan for the Pershing Square pedestrian plaza. Certainly a project with the magnitude of East Midtown at least merits similar timetables.
There are those who believe the city is dragging its feet, however, namely Post real estate columnist Steve Cuozzo. He took to the tab's editorial pages today to slam the Midtown East plan from the other side. He said the city should not wait until 2017 to let developers build bigger. But his main issue is with a neighborhood improvement fund developers would finance by buying air rights: "The city wants the dough to remedy such horrible 'pedestrian realm challenges' as 'narrow sidewalks and bottlenecks in subway stations.' Hello, slush fund?"