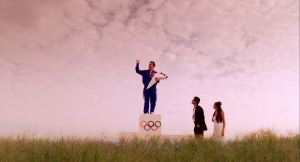 A longer conversation with Mike Birbiglia and Ira Glass about Sleepwalk with Me can be found here.
Mike Birbiglia is not a morning person. The 34-year-old comedian has compared himself to a bear when he has to wake up. He does the impression: a rather pitiful, yawning "roar" made while clumsily swiping at anything nearby. "Bear" by way of cowardly lion.
It's understandable that Mr. Birbiglia has a tough time in the morning—he spends his nights running around in his pajamas. The baby-faced writer/actor/comedian—and now director—suffers from REM behavior disorder, a rare neurological dysfunction that causes him not only to sleepwalk, but to physically engage with the things he confronts in his dreams—for example, a menacing, hovering jackal.

Sleepwalk with Me, Mr. Birbiglia's latest effort, is based on his New York Times best seller, which stemmed from a short monologue on This American Life. It tells the story of his night-bound struggle, which includes dream-state plot lines that range from participating in an Olympics ceremony for dust-bustering to saving his loved ones from a heat-seeking missile (an act of martyrdom that included a real leap from a real second-story window, requiring 33 stitches upon waking up, covered in glass, on the lawn outside the La Quinta Hotel in Washington).
But like Freud said, a pipe is never just a pipe, and as Sleepwalk and his life story go on, Mr. Birbiglia's semi-fictional counterpart, Matt Pandamiglio, finds himself running scared—even in his waking life—from forces he feels are beyond his control. There are looming specters haunting, but they come along with the more mundane dread of everyday life: in commitment, failure, success, disappointed parents and overachieving siblings.
Hence the jackal: a giant hybrid insect/wolf that chases the somnambulist around his apartment until he finally destroys the creature—which turns out to be his hamper. In the movie, this is how we are introduced to Matt and his long-suffering girlfriend Abby (Lauren Ambrose). As his life becomes more unmanageable, his dreams escalate in their violence. Finally able to get a couple of low-paying gigs, Matt spends all his time on the road and in hotels with new-found comedy-club friends and the ubiquitous subculture of underground female comedy groupies (women whom Seth Hertzog once unceremoniously dubbed "chucklefuckers"). He proposes to Abby in the middle of a drunken fight, partly to get her to stop crying and partly out of guilt for an unconfessed indiscretion. "Remember, you're on my side here," our less-than-heroic protagonist must remind his audience at one point.
While Mr. Birbiglia has said in previous interviews that the hardest part of translating his play to film was the dream sequences, it's actually the addition of the extra characters. The story struggles in its transition from a one-man performance to an ensemble film. Almost all of the actors are friends and colleagues of the stand-up, including comedians David Wain, Wyatt Cenac, Kristen Schaal, Jessi Klein and Marc Maron all play supporting characters that resemble their public personas. At times, it can feel like the script is not so much the monologue rewritten but an compendium of influences of these other comics' sets. (The exception being Girls actor Alex Karpovsky, who plays a caustic stand-up doing a gig at Matt's bar. His routine is actually from an old Mike Birbiglia set.)
The collaborative effort that went into the script–which had four writers, including Ira Glass and two of Mr. Birbiglia's siblings–would explain why the script took two years to write, despite being essentially an adaptation.
Chicago Public Radio's precious nerd-hunk Mr. Glass, not only a cowriter but the executive producer as well, entered Mr. Birbiglia's life in 2008, when he invited the comedian on This American Life for the first time. The story Mr. Birbiglia told then was a truncated version of what would become Sleepwalk With Me, a PG rendition with all the bad deeds removed and the lighthearted reckonings kept in for the tote-bearing listeners at home. The comic's easy style of combining laughter with pathos earned him a spot as a regular contributor to the show, as well as a lasting friendship with its host.
And their film, Sleepwalk with Me, holds together as a story that, like a particularly good episode of This American Life, is both laugh-out-loud funny and somewhat melancholic.
Sleepwalk With Me opens August 24th at the IFC Center.
SLEEPWALK WITH ME
Running Time 90 minutes
Written by Mike Birbiglia, Joe Birbiglia, Seth Barrish, and Ira Glass
Directed by Mike Birbiglia
Starring Mike Birbiglia, Lauren Ambrose and Carol Kane
3.5/4