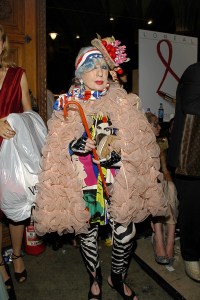 A glance at Twitter these days might prompt one to wonder why all of our celebrities are suddenly expiring en masse. It used to be said that deaths come in threes—now the daily news cycle arrives like a plague, cutting down one cultural luminary after another.
Of course, notable deaths aren't on the upswing—but chatter about them certainly is. We perform our grief on social media, the personal tributes flooding Twitter in the moments after each passing. To the traditional accoutrements of mourning (the mountains of stuffed animals, the candles and roses, the dimming of the lights on Broadway), we have added the tweet, the retweet and the "like."
This past week, composer Marvin Hamlisch, fashion editor Anna Piaggi, art critic Robert Hughes, and author and raconteur Gore Vidal all passed away. Then, even as we were writing this, film critic Judith Crist joined them. In a past era, their deaths would have have merited a Times obit and a mention, if time allowed, at the end of the evening news.
In the age of Twitter, though, there is no such thing as a muted response to a celebrity passing. At press time, the top trending topics included Hamlisch, Hughes and Piaggi, as well as A Chorus Line and The Sting, Hamlisch's two best-loved works. "Rest in peace, Good man. #ChorusLinealldaybaby" wrote one Twitter user apparently planning to enjoy Hamlisch's work. "My cat loves this one," wrote another user, of a track Hamlisch wrote for The Informant! Piaggi and Hughes earned tributes no less heartfelt, with a Canadian reporter speculating all three were together in heaven, "trading stories over a plateau de fruits de mer and rosé."
Twitter is perhaps the ultimate tool for celebrity death announcements—better, even, than celebritydeathbeeper.com ("Now checking for deaths every 10 minutes"). The collective digital keening represented by the subject's ascension to trending topic-hood opens up a realm of deeply personal and hyper-specific emotional projection. For instance, it allows those who once personally encountered the subject to advertise that fact. As one devastated tweeter noted of Hamlisch, "I rode a hotel elevator with him in Phoenix once."
It also imparts which of the celebrity's books, characters or songs is the most beloved among one's circle. Turns out, everyone has read Crazy Salad and The City and the Pillar, and adores "I Wanna Dance With Somebody."
These days, failing to retweet a celebrity's passing, ideally with a hastily assembled Spotify playlist, an animated GIF or a lovingly curated series of YouTube clips, is a sign of one's heartlessness. Chiming in, after all, is how we know we're still alive (for now); to sit one out is to risk irrelevance. While eulogies are still rightly offered by those who loved the deceased, Twitter conveys death's effect on those who "liked" him.
Wading through the sheer volume of remembrances of Hamlisch or Piaggi, one feels as though it could go on forever—or at least until the next celebrity dies. And with every tweet fired off, staking out the sender's claim to a very fleeting and high-tech grief, one feels the tweeter's anxiety, as though his enthusiasm could stave off the inevitable.
And someday, the tweeter no doubt hopes, his own followers will eulogize him—something appropriate, just a few characters and a shortened link, in memoriam.