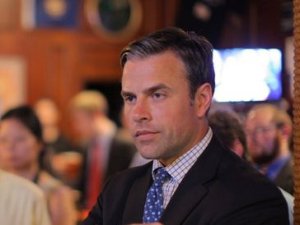 Democratic congressional hopeful Mark Murphy is releasing an internal poll this afternoon that his campaign says gives him a path to victory against incumbent Congressman Michael Grimm. The numbers give Mr. Grimm a 48 percent to 36 percent lead, which represents a decent amount of ground he needs to make up by Election Day.
"This is a very encouraging poll for Mark Murphy. Congressman Grimm starts below the 50 percent mark—a sign of weakness for an incumbent," Jeffrey Plaut, whose firm Global Strategy Group conducted the poll, said in a statement. "Short introductions to both candidates move the race to a tie. And the more voters hear about Grimm and the questionable company he keeps, the more they prefer Murphy."
The poll's findings validate the campaign strategy Mr. Murphy has been implementing so far–highlighting the various controversies that have surrounded Mr. Grimm's tenure in Congress, especially the federal investigation into his 2010 campaign's fundraising. Mr. Grimm has denied any wrongdoing.
Mr. Murphy's last internal poll from GSG was released at the end of June, which drew similar conclusions about pitching negative angles on both candidates. The last findings had Mr. Grimm leading 47 percent to 32 percent, slightly more than his current standing.
View today's polling memo below:
Mark Murphy has Clear Path to Victory in New York CD 11
Michael Grimm's problems and votes against the middle class make him deeply vulnerable
There is a clear path for Mark Murphy to defeat Rep. Michael Grimm in the race for New York's 11th Congressional District, according to a recent poll of 402 likely November general election voters conducted August 13-16, 2012 by Global Strategy Group (GSG). Key findings include:
• The 11th District is a classic swing district. Voters in CD 11 are divided on partisan measures, with 42% supporting the generic Democrat for Congress and 40% supporting the generic Republican. Voters are about as likely to identify as Democrats (46%) as Republicans (44%).
• Michael Grimm is distinctly vulnerable. Voters are net negative about Grimm's job performance, with 45% saying he is doing a 'just fair' or 'poor' job. And Grimm currently earns under 50% of the vote, which stands at 48% for Grimm to 36% for Murphy – a strong sign of weakness for an incumbent.
• Mark Murphy's profile is appealing to voters, and the race moves to a tie when voters hear short biographies of both candidates. Though Mark Murphy currently trails Michael Grimm in name recognition, an even-handed introduction to voters with positive information about both candidates brings this race to a statistical dead heat (45% for Murphy/46% for Grimm). This shows that the race will tighten significantly as voters start paying closer attention to politics over the next three months.
• Murphy takes a huge leads after voters hear about Grimm's votes for the Republican budget, personal ethics problems, shady associates and extreme views on women's health and guns. Negative communication against Grimm is extremely effective, with 6 messages on a wide range of topics raising major doubts in the minds of more than 60% of voters. After hearing negative communication against Grimm, voters give Murphy a large lead, propelling him over the crucial 50% mark and signaling that a majority of Staten Island and Brooklyn voters are open to electing Murphy to Congress. And this lead holds up, even after negative communication against Murphy. At the end of the survey, the vote stands at 49% Murphy to 34% Grimm – a clear sign of the strength of Murphy's message.
The bottom line: Michael Grimm is vulnerable, and voters respond well to Murphy's personal profile as well as Grimm's bad votes, values and conduct. But Grimm's advantages in name recognition combined with the difficulty of reaching voters in New York City mean resources will be crucial in allowing Murphy to get his message out to a receptive audience of Staten Island and Brooklyn voters.
###
correction: An earlier version of this post incorrectly stated that the head-to-head numbers were not included.