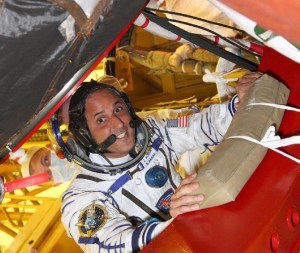 The National Aeronautics and Space Administration has overcome a number of harrowing obstacles along the road toward accomplishing out-of-this-world feats—the Apollo missions, followed by the space shuttle, and now the development of Commercial Crew vehicles—but there remains one roadblock of sorts that it is still trying to navigate its way around: How do we get these darned kids to think we're hip?
NASA administrator Charles F. Bolden Jr. is well aware that his current audience remains much the same as it was during the space race; a lot of older people follow NASA closely because of intense nostalgia for space-related memories like gathering around a black-and-white TV set with their entire extended family and watching something special like, say, the moon landing. Today's youth, on the other hand, hasn't grown up with these scientific breakthroughs occupying an abundance of airtime or attention, and these major events are pretty much known to them from what they've read in school textbooks or heard at family gatherings—when grandpa has had one too many bourbons.
But now, NASA is launching initiatives to bring the agency better remembered from monochrome boob tubes into the present, aligning itself with pop culture trends. It recently released Angry Birds Space, which is designed to encourage users to consider anti-gravity trajectories while they eliminate egg-stealing pigs. (Following the game release, a YouTube demonstration on the International Space Station of real-life angry birds using a slingshot and balloons had 16 million views.) And Bob Jacobs, deputy associate administrator for communications, tells us the agency's fervent social media efforts are "award-winning."
"There was a time when space exploration was new, that every launch was a pioneering effort," Mr. Jacobs said. "Kids today don't know a time without space exploration."
This Friday at 4 p.m., however, NASA hopes that the elusive younger demographic will be brought into a space story of their own—about the time they listened to the first DJ spin from the stars out yonder.
Astronaut Joe Acaba will host the program, entitled "The Joe Show: New Rock From Space," from the International Space Station, 240 miles above Earth.The show will be broadcast on NASA's radio station, Third Rock Radio, available on the NASA home page and via a mobile app called TuneIn.
Cruze, one of the founders of Third Rock Radio, tells us that the station is like any other, except for two small details: It only plays new music, discovered online and at music shows by its team of "music explorers," and, during breaks from the program, it shares facts about NASA and other technology developments.
"In between songs, instead of saying things that other DJs might say like, 'Join us next Thursday for drinks at so-and-so's club,' the Third Rock DJs talk about 'Hey we're landing this info finder on Mars next week.'"
Cruze—who goes by only one name—told us that he and his partner Pat Fant have more than 30 years of broadcast experience between them, which they are trying to apply to NASA's new initiative. "This is NASA's challenge, frankly," he told us. "Becoming more relevant to a new generation." But this isn't NASA's first foray into experiments with the music world, he said. Cruze related an experiment by Don Tepit, an American astronaut who put water droplets on a speaker and then blasted ZZ Top so the water droplets could be photographed in suspension.
At Third Rock Radio, the DJs make an effort to match music with whatever they are reporting. And Cruze says that though it might sound "cheesy," the Apollo landing would definitely pair well with Pink Floyd's Dark Side of the Moon. He added that he wasn't the only one who thought Pink Floyd goes well with spaceflight miles from Earth. During an interview with Third Rock, astronaut Joe Kriegel told them about a mission during which they played the album while they looked at Earth through the cabin windows.
"They missed the moment for re-entry and had to wait until they got the go-ahead to try again, so they shut off all of the lights in the cabin," he told us, "and listened to the entirety of Dark Side of the Moon by Pink Floyd."
Cruze thinks all of the expeditions can be paired with music tracks. Other expeditions are a little "more psychedelic," he laughed over the phone. "Any Mars landing might be something sort of electro." He points to songs by a French duo called Air, which released an all-instrumental record intended to be a soundtrack to the silent film "Voyage to the Moon." In light of the Curiosity rover landing on Mars scheduled for Monday, the album might very well hit Third Rock's airwaves.
Despite these pairings, Cruze tells us they don't like when their songs are too literal. "We don't want to have it be about Rocket Man by Elton John," he told us. "A lot of time that's what people think Third Rock is about. But it's about what's new and not been heard everywhere else."
He hastens to add that during Friday's show, he's not enforcing any limits. "If Joe Acaba wants to play Rocket Man, I'm not going to tell him not to."