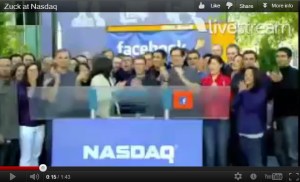 Nasdaq said in a regulatory filing today that it expects to incur "significant additional expenses" as a result of a technical glitch at the exchange during Facebook's initial public offering, which in truth, was not so hard to see coming: Nasdaq has been revising upward the costs associated with the botched IPO from the very beginning. The sources of those costs: nine lawsuits, a Securities and Exchange Commission Investigation and, uh, "technical changes and remedial measures" to make sure this kind of thing never, ever happens again.
In case you've been napping, a software problem on Nasdaq's electronic trading platform delayed order confirmations during the early hours of Facebook's May 18 offering, leading traders unsure as to how many shares they were holding. In the wake of the fiasco, Nasdaq protested that regulations prevented it from paying out more than $13.7 million against the losses.
But by the first week in June, and amid reports that the four largest market makers in Facebook stock had lost more than $100 million due to Nasdaq's glitch, the exchange announced a compensation plan that would provide up to $40 million in cash and discounts on future trades processed on the exchange.
Still not good enough: the New York Stock Exchange was irked, arguing the pay-back scheme was "tantamount to forcing the industry to subsidize Nasdaq's missteps" because it compels customers to trade on Nasdaq to receive compensation. Knight Capital, which said it lost $35 million on Nasdaq's face-flop, was displeased that the exchange's $40 million proposal would not go far enough.
Last month, Nasdaq upped the ante, increasing the compensation pool to $62 million, and agreeing to pay all accommodations in cash. Knight Capital was said to be on board with that plan, though that was before the market maker experienced a catastrophic glitch of its own, blowing $440 million in a matter of minutes and putting the future of the company in jeopardy. Meanwhile, the new plan stopped short of satisfying UBS, and no surprise: the Zurich-based firm managed to flush something like $350 million down the drain in a flurry of superfluous orders, and promised legal action.
Nasdaq, it should be noted, isn't setting aside funds to pay for settlements at this point, but simply anticipating expenses associated with closing the book on the Facebook matter. Nonetheless, today's filing marks another milestone in what has been a long-drawn, sorry story, a story which me might have summarized more pithily like this: