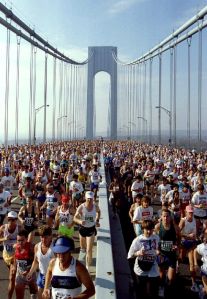 If you ever needed an excuse to tell friends and family why you won't be participating in the grueling 26.2-mile New York City Marathon this year, the organizers at New York Road Runners just gave you an easy out. The NYRR announced yesterday that they will no longer be shuttling the bags of its participants from the start line in Fort Wadsworth to the finish in Central Park.
Meaning that if you want your cell phone, key, change of clothing or any other amenities once you've just finished putting your body through an grueling and unnecessarily taxing endurance challenge, you'll have to carry them with you.
You would think the NYRR was doing this to save money–as the UPS trucks previously used to move the runners' bags came out of the organization's pockets–but you'd be wrong. They're just doing it because they feel like it and are sick of getting yelled at for not delivering bags in an orderly fashion.
So now you runners get nothing. See how you like them apples!

According to Buisnessweek, the UPS trucks will still be utilized and will transport the personal belongings of the marathoners … but instead of taking the items to their owners, they'll be bringing them to a local charity.
When discussing the new change in policy, which includes 70 trucks and 300 volunteers (not to mention the 47,000 runners), NYRR claimed it was implementing the new plan because of "feedback" from former participants who complained "of post-race congestion and waiting time to exit Central Park." Also:
"UPS employees will continue to be key members of our team, including a partner of our clothing donation effort at the start."
Instead of their bags, participants can now look forward to a complimentary poncho at the end of the November 4 race.
Look, we're all for charity, but runners have to wear literally as few clothes as possible. And while we're sure the homeless and needy will benefit from a nice windbreaker, they don't need your wallet, keys or cell phone, all of which runners bring to the race because hey, they are leaving their apartment and those items can be necessary to get back home again.
As for the argument that this initiative is being done because of complaints about the wait time when picking up your bag, well, that's like JetBlue claiming that you can't check any luggage on your flight because too many customers have been whining about how long it takes them to find their Briggs & Riley duffels on the carousel. (Look, if you know everyone else is going to bring a black suitcase with wheels too, maybe you should opt for a different color.)
If you don't want to bring a bag to the New York City Marathon, don't bring a bag. Just don't start punishing the people who do. As the online petition sponsored by Travelite reads, "Because who DOESN'T want a fresh pair of socks or some comfy clothes after running 26.2 miles through New York City with 45,000+ friends?!"