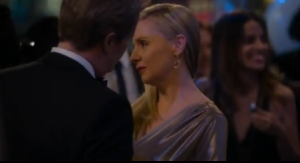 So: a New York Post escapee/former columnist and reporter named Mandy Stadtmiller—who, according to her Wikipedia page "quit The New York Post and announced her upcoming ebook in the style of The Devil Wears Prada (novel) about her time working for News Corp. — including her time appearing on the front page of the newspaper with a gigolo — called "News Whore.'"—is back in the regular editorial hustle.
She's now a deputy editor at xoJane. Even more, her big debut for the site is about how she supposedly inspired a character on Aaron Sorkin's The Newsroom. But less exciting than the fact that she inspired a character on The Newsroom—which, really, what can be less exciting? A character on Studio 60?—is the way she characterized the Post to Aaron Sorkin on a date, and now, blogged about it.
So here's the setup: Aaron Sorkin is gonna take her on a date. He picks her up at the post after sending her flowers with a moderately flattering note attached to them. They start talking about their days. And then:
At dinner, he asked me what I had done for the day. At the time, I was writing a story about one of the "Real Housewives" on Bravo. And not only that, it was a "takedown piece" as we call them at The Post. Meaning, an almost faux-populist, folksy "we're not gonna take it anymore," very tabloid-y STFU rant for whatever winged creature of the moment has flown too close to the sun.

Today it was Bethenny Frankel.

Poor Bethenny. She had done three recent things that were not so good. And maybe another reporter had an anecdote or something. And you know how journalism works don't you. Three things make a trend. A trend — or a takedown piece.
Sorkin asks her what a Takedown Piece. She replies (gleeful emphasis ours):
"You know, a takedown piece. That's what we call them at The Post. That's what we do. It's The Post. It's a formula where you talk about all the things the public is pissed off about. It sucks. I hate it. It's depressing. It's pure negativity. It's just toxic. But it's my job. In fact, I even tried to get out of this one because it's about Bethenny Frankel, one of 'The Real Housewives of New York,' and I like Bethenny and have used her as a source before. But I just can't get out of it."

"So…it's just bitchiness?" he asked, horrified. "What if you suggested five different alternative stories?"

"It's The Post," I said. "Have you ever read The Post?"
Now this goes without saying that not everyone who works at the Post is likely as craven in their work or as self-aware of it as Ms. Stadtmiller is/was. But this is also the appropriate response to people who read over your shoulder on the subway, and find themselves horrified at any random day's Post piece. Either way, you can imagine how this ended, because it's Aaron Sorkin: No, not with crack cocaine and potted plants, but with Ms. Stadtmiller getting a preachy monologue for dinner, and later, a Sorkin character based on her.
How does she know it's explicitly based on her? Because Sorkin emailed her last November to ask her about that very dinner. And we know this because it is presented, in the form of an email, which is screengrabbed to xoJane's site. Rather than ruin Aaron Sorkin's email contents for you, you should go read it (in all fairness, Ms. Stadtmiller's xoJane tenure has started on a high note). If anything, it is an englightened guide to what Post reporters think of their jobs, a DIY guide to inspiring (or not inspiring) your very own Aaron Sorkin character, and a very, very good way to ensure you will never work for The New York Post ever again.
I INSPIRED A "BAD" VERSION OF MYSELF ON AARON SORKIN'S "THE NEWSROOM" [xoJane]
fkamer@observer.com | @weareyourfek