The New York Times finally resolves its 'Pussy' issues, a Gawker writer gets a book deal inked, a media outlet's social media presence gets feisty, and more. Here are your Friday Power Lunch Media Briefs:
The Times Gets 'Pussy' In: There's been much discussion over a highly semantic and silly issue: Which newspapers are too prudish to use the name of embattled Russian band Pussy Riot? This Guardian story notes the fact that The New York Times wouldn't use the word in its copy; the Guardian story, filed at 12:21 EDT, is wrong.
It looks like the Times has finally given in after previously taking the conservative route in writing about the band, as the words "Pussy Riot" are on the front page of the Times'swebsite right now. See for yourself: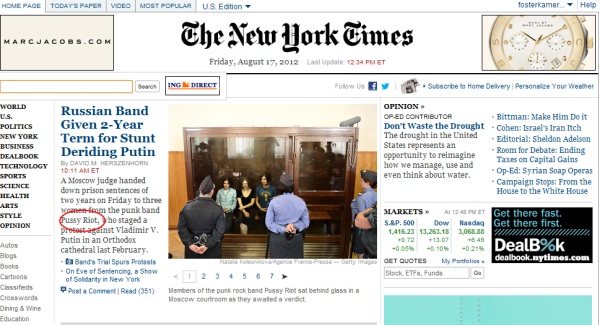 In the actual filing, the band's name makes the second paragraph. [NYT]
Tiananmen-Warner Center Coming Soon: The big New York Times Magazine story this week is about the Chinese state news agency spreading its influence. Not good. (The influence of state-run media, not the story.) [NYT]
Big Daddy Drew: Deadspin's poet laureate ("LeBron James is a Cocksucker") and Gawker's resident intellectual ("Is It Possible to Make a Successful Black Joke About Obama?"), Drew Magary, The Most 'Read Later' Man Alive, is getting another book deal, this one about parenting. From the Publisher's Lunch email list of new deals: "Deadspin and Gawker columnist Drew Magary's PUDDING SHORTS, a heartfelt and humorous memoir of the reality check that is American parenting." Yes, Drew Magary just made the most bold entry in "Scatological Book Title Jokes in the Parenting Section" since Everybody Poops.
Newsweek Clocks Time: One of the crafty scoundrels over at Newsweek's Tumblr notes the one-month lag time between its own story about being far too interconnected via electronic communication (published in July) and a nearly identical premise for a Time cover story (published in August). BURN, Newsweek. BURN. You are the danger. Except for one thing: These are both massively outdated dead-horse premises that have been kicked beyond recognition and wrung dry by everyone but America's two major newsweeklies. Then again, its Tumblr will turn your pointer into a mustache, which is neat, because you can go around giving everything on its Tumblr a mustache. Try it, it's neat. [Newsweek Tumblr]
No Guff for Griffin! MSNBC president Phil Griffin called CNN "desperate." Because cable news networks are almost unilaterally despicable and useless to begin with, we should note here a particular lack of a dog in this fight—suffice to say that "desperate" is a very subjective term when we're discussing the depths cable news networks will descend to, and that the only decent measuring stick here is, quite frankly, who has less money. Also, if CNN is "desperate," at least it's making inspired moves (i.e. hiring Anthony Bourdain). [HuffPo]
Money Mark: If you were concerned The New York Times Co. would hire its CEO and not pay him enough, well, worry no more (also: Who are you and what are you on?). New Times Co. CEO Mark Thompson is going to make $1M a year, and $3M in performance-based stock and stock options.  Also, please note the Huffington Post's slideshow of the Times bureaucrats. [Reuters via Huffington Post]
HuffPo Gives Heave-Ho to New Ad-Sales Guy: Speaking of the Huffington Post, it kept its new sales chief on for only three months before canning him; he was one of three big new hires made for the restructuring that also included Lauren Kapp (a former NBC flack-turned-HuffPo flack who already bailed) and Janet Balis (the new HuffPo publisher). It was supposedly because of an old DWI that turned up on a background check, but something about this smells off, like everything else about "Arianna's" restructuring. [AdAge]
Geraldo, as Ever: If you're curious as to what class of clowning Geraldo Rivera has ascended to in his old age, there's this.
That's it for lunch. Not much shaking today, unless you've heard of something. Anything? Please send your Tips, Drudge Bait and "Too Soon" Yakov Smirnoff jokes regarding the delicate matter of Pussy Riot right this way.
fkamer@observer.com | @weareyourfek