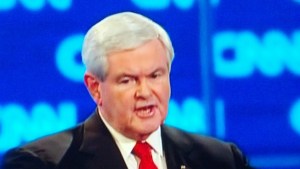 The Romney campaign issued a statement from Newt Gingrich this afternoon accusing President Barack Obama of deciding "to cater to the radical left wing of his party and undo welfare reform." The former speaker of the House characterized the Obama administration's decision to issue waivers to states easing the requirements for people to qualify for assistance through the Temporary Assistance for Needy Families program as undoing the "central concept" of the 1996 Welfare Reform Act.
"As an architect of the historic and bipartisan 1996 welfare reform bill, I am disturbed and angered that the Obama administration is undoing the act's central concept of a welfare-to-work requirement. The hugely successful reform saved billions for taxpayers. More importantly, it began to dismantle the culture of dependency that welfare had fostered: two out of three people on welfare went to work or went to school," Mr. Gingrich said.
Mr. Gingrich claimed changing of the TANF requirements is evidence the president is giving in to "radical" elements of the Democratic party.
"The President's decision to cater to the radical left wing of his party and undo welfare reform is one more reason why it is critical to defeat him at the polls this November," said Mr. Gingrich.
Yesterday, the Romney campaign announced its intention to spend the week hitting President Obama for trying to "gut" welfare reform. The Obama campaign has fought back by pointing to the fact that Republican governors requested the TANF waivers and that Mitt Romney requested changes to welfare reform laws during his tenure as governor of Massachusetts. The Obama campaign has also defended the waivers by claiming they allow states to identify the best welfare-to-work programs and that the waivers don't eliminate the welfare-to-work requirement, because states that receive them are required to increase the number of welfare recipients who move on to employment by 20 percent.