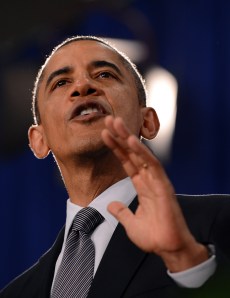 At a rally in Wisconsin last night, Mitt Romney demanded President Barack Obama take his "campaign out of the gutter." This morning, the Obama campaign responded with a statement blaming the negative tone of the campaign on Mr. Romney's "dishonest ads."
"If Mitt Romney wants to take politics out of the gutter, he might want to start with his own campaign ads," Obama campaign spokeswoman Lis Smith said. 
Specifically, Ms. Smith cited a series of attacks the Romney campaign has made accusing President Obama of trying to "gut" the work requirements in the 1996 Welfare Reform Act. The Obama campaign has repeatedly criticized Team Romney's welfare attacks as "completely false."
"Mitt Romney may think his only path to victory is through running dishonest ads like this one, but the American people deserve better," said Ms. Smith.
Mr. Romney, who has faced attacks from the Obama campaign on his tax returns and past business dealings, made his remark about "gutter" politics at a rally last night in Wisconsin shortly after a group of protesters tried to interrupt his speech.
"Mr. President, take your campaign out of the gutter – let's talk about the real issues that America faces," Mr. Romney said as Secret Service removed the protesters from the event. "You ought to find someplace else to be disruptive because here we believe in listening to people with dignity and respect."