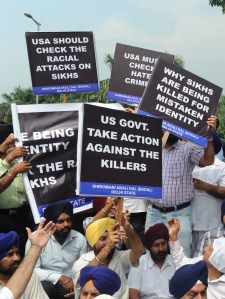 One day in mid-July, President Obama addressed the nation—"not so much as a president" but "as a father and as a husband." It was, he said, the "darkest of days": the aftermath of the horrific slaughter of moviegoers in Aurora, Colorado. It was the right speech at the right moment, the right way to address the unaddressable. Mitt Romney, too, spoke of his sincere sorrow for the loss of life—similarly speaking "as a father and a grandfather, a husband, and an American."
Neither man campaigned that day.
But two weeks later, when another lunatic shooter opened fire on another group of husbands and wives and fathers and sons and mothers and grandparents? The campaigns didn't skip a beat. Neither candidate appeared on the scene.
The difference appeared to be the location of the massacre and the sort of victims targeted. One killing took place in a movie theater, the other in a Sikh temple. One was presented to mainstream America as an attack on "us"—after all, in our fragmented culture, what shared experience do we really have left outside of a blockbuster movie opening? The other was framed as an attack on "them," the Other, a little understood religious minority. Tragic, for sure, but maybe a little remote.
Or was it? Both presidential candidates hail from minority backgrounds. As an African American president with a long stint in Indonesia in his bio—and one who has often been labeled a "secret Muslim"—Mr. Obama might be expected to relate a little more readily to the experience of an "outsider" community. As would Mr. Romney, whose Mormon forebears were persecuted and hounded by the American government for decades.
As both men are undoubtedly well aware, the attack in Oak Creek, Wisc., did not simply target a minority—it was an attack on the essence of American identity.
While statements of condolence were issued, and Michelle Obama has announced plans to visit the temple, it feels a bit too little, too late.  In the last two weeks there have been eight attacks on houses of worship around the country (including the shooting at the temple), beginning with a defacing of a mosque in Hayward, California, a pellet gun fired at a mosque in Morton Grove, Illinois, and a bottle of acid and chemicals thrown at a school in Lombard, Illinois, during prayer. Mosques in Rhode Island and Oklahoma were vandalized, and pork parts thrown at the site of an Islamic Center under construction in Ontario, California. And the mosque in Joplin, Missouri (yes, the town decimated by a tornado last year) was burned to a crisp. The cause is still a mystery, but a previous fire at the same mosque was ruled arson. Just last Friday, a Muslim cemetery was defaced in a Chicago suburb.
Is the community jittery? Wouldn't you be?
Indeed, it's particularly a difficult moment to be Muslim, what with Michele Bachmann calling for House UnAmerican Committee-like action against high ranking Muslims at the Departments of State and Defense—accusing them of using their "influence" to privilege the Muslim Brotherhood in US foreign policy. And while it may seem odd to lump Sikhs and Muslims together, to the uninformed—and the perpetrators of these acts are plainly among them—the difference is negligible.
Speaking out forcefully against this summer's violence, as well as the rhetoric that has led to it, would seem to be a key role for the president, or anyone who aspires to the job. Instead there's been an uneasy distance about the issue, starting with the reaction to the Oak Park carnage. As Naunihal Singh pointed out in The New Yorker last week, the Temple shooting was treated more as a Sikh tragedy than an American one. Where Aurora garnered full-page sympathy narratives—tales of those whose lives were cut short, and the heroes died to save their friends—we didn't hear nearly so much about the kids stuck, terrified, in the back closet of the temple in Oak Park, or the desperation of the relatives reading horrific texts from inside the nightmare.
What should have happened? The president and Mr. Romney should have suspended their campaigns. They should have flown to Oak Park immediately and made a joint, ecumenical, nonpartisan show of unequivocal solidarity with the community of Americans, Christian and non-Christian. And then, they should have condemned the prejudice and violence that have been on a worrisome rise across the country.
Instead, while the two contestants for the presidency were carefully measuring their words, New Jersey Governor Chris Christie hosted an Iftar dinner at the Governor's mansion. "I'll tell you that there is a gaze of intolerance that is going around our country that is disturbing to me," he told the crowd. He called the anti-Muslim rhetoric what it is—"bigotry"—adding with a derisive sneer that he himself has been dubbed an "Islamist."
Strange, but there it is. The person most visibly standing up to the lunatic, Islamophobic right is not the president with the Muslim father and step-father, the one whose grammar-school education included a stint in a predominantly Muslim school, but the governor of New Jersey, a boorish, fast-talking, Springsteen-loving, conservative, who's been tapped to give the keynote speech at the upcoming Republican convention.
It's not the first time Mr. Christie has put himself out there. Last year, responding to spurious claims that his judicial appointee Sohail Muhammad would bring Sharia law to New Jersey, the governor sputtered that all the talk of "creeping Sharia" was "crap." Since his Iftar dinner speech on August 9, the right wing has taken him to task. "Christie's embrace of Islamo-Fascists" screamed the headline in Robert Spencer's FrontPage magazine on August 13.
Mr. Spencer may sound dismissablly extreme. But is he really any different from Rep. Peter King—who hosted hearings again this spring, looking for Muslim radicalism in America (and declining to bother examining home-grown haters, such as the white nationalist nutjob who shot up Oak Park) or Ms. Bachmann? Earlier this summer, the Minnesota congresswoman officially questioned the loyalty of Huma Abedin, Hillary Clinton's deputy chief of staff (and Anthony Wiener's wife), in a McCarthy-esque smear that Mitt Romney declined to repudiate. While Sen. John McCain stepped forward and blasted the personal slight on the House floor calling it "an unwarranted and unfounded attack on an honorable citizen, a dedicated American, and a loyal public servant," it took President Obama another week to publicly call Ms. Abedin as an "American patriot" and "an example of what we need in this country—more public servants with her sense of decency, her grace and her generosity of spirit." This was at an Iftar dinner of his own, the same one at which pronounced again his sorrow over the events of Oak Park, in starker words, to be sure, but again, from the comfort of Pennsylvania Avenue.
But what he didn't do was display the bravery—or bravado—of Governor Christie. The subdued energy of Mr. Obama's closed Ramadan event might be a reflection of the administration's frustration over the fact that, somehow 17 percent of registered voters still believe the president is a Muslim (and 31 percent say they just "don't know" what he is—ignorance bolstered by asinine comments from aging country stars like Hank Williams Jr.). His team may also be a little troubled by the line of attack suggesting he is somehow  anti-Christian. As one Romney ad—featuring Lech Walesa and John Paul II—intones, "When religious freedom is threatened, who do you want to stand with?" before offering the standard line about Obama's inclusion of birth control with medical insurance constituting an affront to religious liberty.
They all need to cut the crap, as Mr. Christie might say. The White House and the Romney campaign need recognize Muslim-bashing for what it is—a direct challenge to core American values—and stand up against it before someone else decides to do harm to fellow citizens just because of the manner in which they worship god and the house they choose to do it in.