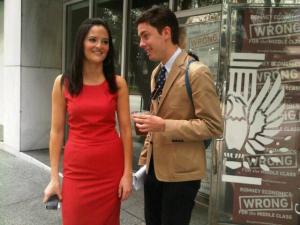 TAMPA, FL — Along with all the red staters at the Republican National Convention in Tampa, there are several Obama For America staffers who are monitoring the events from an office they're calling the "Romney Economics: Wrong for the Middle Class War Room" and one Republican National Committee staffer has repeatedly attempted to get behind enemy lines and into the Obama campaign's convention outpost. This morning, Obama For America Director of Rapid Response Lis Smith tweeted that Tim Miller, the digitally savvy deputy communications director of the Republican National Committee had tried and failed to infiltrate the Democrats' convention war room.
"@Timodc's attempts to crash our office have been even less successful than @MittRomney's reinvention convention. Not an easy feat," Ms. Smith wrote, referring to Mr. Miller by his Twitter handle. 
Politicker reached out to Ms. Smith for more details of the Romney-Economics-Wrong-for-the-Middle-Class-War-Room-Gate and she said Mr. Miller made multiple attempts to disrupt press conferences at the Obama campaign's Tampa headquarters.
"He's tried to get into our morning presser two days in a row to disrupt it. Both times he was unsuccessful," she said.
Mr. Miller responded to Ms. Smith by claiming the Obama campaign showed they are afraid of the GOP by having him removed from the war room by security, and also by having an RNC war room in the first place.
"@Lis_Smith like a sitting prez campaigning during our convention, using security to eject me only exposes the fear," he wrote.
Mr. Miller told us he was merely standing on the sidewalk outside the office "discussing with reporters the misinformation they were sharing at their press conferences and offering proposed questions for the speakers."
"Given that [Obama For America National Press Secretary Ben] LaBolt, [Obama campaign advisor Robert] Gibbs and others came into our convention space and were treated graciously I find it odd that they won't return the favor," he added.
Mr. Miller also told us he had a "hilarious time" at the Obama campaign war room.
(This post was updated at 9:57 p.m. to include a comment Mr. Miller provided earlier today that we missed due to the tsunami of campaign press releases flooding our inbox.)