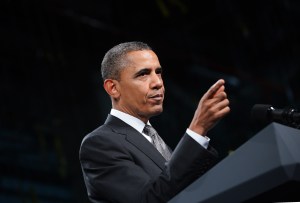 At an event in South Carolina today, Mitt Romney rebuffed the repeated questions the Obama campaign has raised about him not revealing more than two years of his tax returns by claiming he's paid at least a 13 percent tax rate for the past decade.
"I did go back and look at my taxes, and over the past 10 years I never paid less than 13 percent. I think the most recent year is 13.6 or something like that. So I paid taxes every single year," Mr. Romney said.
Obama campaign national press secretary Ben LaBolt was asked how the campaign would respond to Mr. Romney's claim on a press conference call with reporters this afternoon. Mr. LaBolt's answer was simple. He said Romney should "prove it" by releasing more of his returns. 
"The key is the ability to prove his claim; look, this is a candidate who has defied bipartisan precedent—his own father put out 12 years of returns," Mr. LaBolt said. "Governor Romney has only put out two years of returns, and the fact is, the American people deserve the opportunity to look through those documents and make their own conclusions."
Mr. LaBolt said making his tax returns public would be the only way for Mr. Romney to answer several questions, including "discrepancies" in his financial disclosure statements, why he transferred ownership of a Bermuda-based corporation to his wife before he was inaugurated as governor of Massachusetts, whether he avoided taxes by keeping assets offshore and why he opened a Swiss bank account.
"He has the ability to answer all these questions by releasing several years of his tax returns, and he simply hasn't done that," said Mr. LaBolt. "So we would say, 'Prove it, Governor Romney."
Questions about Mr. Romney's taxes have also come from Senate Majority Leader Harry Reid, who has claimed to have knowledgeable, unnamed sources who informed him Mr. Romney may not have paid any taxes at all during some years. His spokesman, Adam Jentleson, didn't back down from this accusation after Mr. Romney's statement today.
"We'll believe it when we see it. Until Mitt Romney releases his tax returns, Americans will continue to wonder what he's hiding," Mr. Jentleson said.