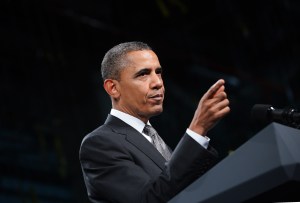 The newest campaign ad for President Barack Obama is a televised rebuttal to a Mitt Romney commercial that accused him of wanting to "gut" welfare reform.
"Seen this?" a narrator says as a shot from the Romney ad appears on the screen.
The Obama ad goes on to feature a New York Times editorial calling the Romney ad "blatantly false" and a Washington Post editorial saying "the Obama administration is not removing" welfare-to-work requirements "at all."
Team Romney's accusation President Obama is dismantling the work requirements in the 1996 Welfare Reform Act is based on a directive issued last month by the Department of Health and Human Services allowing states to apply for waivers lowering the requirements necessary for applicants to qualify for aid through the Temporary Assistance for Needy Families program. These requirements include things like job training programs and attendance in secondary school. In the ad, there is a clip of a letter from HHS telling Congressman Dave Camp, the Republican chairman of the House Committee on Ways and Means that governors in states receiving the waivers "must commit that their proposals will move at least 20 percent more people from welfare to work."
Over the past three days everyone from Newt Gingrich, to Rick Santorum and President Bill Clinton has weighed in on the welfare reform flap. The Obama campaign commercial closes by noting President Clinton said the accusation made in the Romney ad was "not true." It will air in Colorado, Ohio, Florida, Iowa, North Carolina, Nevada, and Virginia.
Watch the new Obama campaign commercial below.
[youtube http://www.youtube.com/watch?v=sWTPRrMW6Dk]