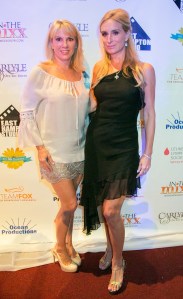 After some time spent roving the idyllic Hamptons lanes last Saturday, The Observer found ourselves at a charity gala honoring the music of Billy Joel. The Michael J. Fox Foundation's Team Fox had teamed up with the Leukemia & Lymphoma Society to put on the snazzy soiree.
Onstage, a Billy Joel tribute band was playing at considerable volume. We asked the brave souls seated near the front how they felt about the idea of setting up a tribute band.
M.C. and host for the evening Gina Giordan was keen to point out that she did not choose the band, and was unconvinced that anyone could compare to the legendary Billy Joel.
"I have had the pleasure of interviewing Billy Joel numerous times," Ms. Giordan told us. "There is only one Billy Joel, and when he performs, you know why."
Comedian Jackie Martling appeared to be of two minds over whether he would want a comedy tribute group set up in his honor.
"I'd be honored, although I'd hate it if they were good," Mr. Martling bellowed over the blare from the stage. "No I wouldn't. Yes I would." And what if the tribute group was actually better than him? "That's impossible! I was going to train people to tell my jokes [at a school]."
The band was at least playing for some worthwhile causes. The Leukemia & Lymphoma Society is the world's largest nonprofit health organization dedicated to funding blood cancer research. The Michael J. Fox Foundation is committed to finding a cure for Parkinson's disease through funded research and to ensuring the development of improved therapies for those living with the disease.
For some guests attending, such as celebrity housewife Ramona Singer, these causes were unfortunately closer to home.
"My mother actually passed away from leukemia," she confided.
Michael J. Fox, who was diagnosed with Parkinson's in 1991, has since become an activist for research toward finding a cure, which led him to create his foundation.
Mr. Martling, who has worked with Mr. Fox, remarked with a mischievous grin that he knew him more intimately than most.
"I love Michael J. Fox," he told us playfully. "He's a great kisser." Mr. Martling's blonde bombshell of a girlfriend, seated loyally beside him, raised her eyes to the two-stories-high ceiling.
Bromance was blossoming elsewhere in the packed studio, as Zachary Tunick articulated his feelings about the owner of East Hampton Studio, Michael Wudyka. "He's a rugged, good-looking man who's got a heart of gold and is very sensitive," he related.
Inspired by Mr. Fox's Back To The Future franchise, The Observer asked guests what time period they would travel to if they were equipped with Doc's fabulous time machine. Ms. Singer wanted to explore the court of Louis XIV, where the Sun King was surrounded by devastatingly beautiful and politically empowered mistresses.
"Women had to have their power through their beauty at court," Ms. Singer explained. "The whole thing of, like, the French court, the English court, that really intrigues me. I read historical novels." Perhaps for Ms. Singer, the Real Housewives of New York City are a modern version of Louis XIV's mistresses at the glamorous royal court?
A few guests would only bounce back to the past to change history. Ms. Giordan wanted to journey "back in time just enough to meet and marry my soul mate, singer/songwriter Jeff Buckley."
Partygoer Jack Lester had a heroic mission in mind—and rather a dark one.
"I would want to go back to 1938 … so that I could assassinate Adolf Hitler," Mr. Lester replied brusquely, as if this were the most obvious choice imaginable. Murder indeed appeared to be on his mind as he watched the reality-TV housewives swanning around the studio.
"What I think is outrageous is how the Housewives of New York City have become worthy of celebrity status. Why is that?" Mr. Lester asked The Observer. Interviewer and interviewee seemed to have traded places. "The housewives themselves don't see the irony. They really think they are celebrities. They don't see the absurdity of it. They really believe that they have contributed something to our culture."
Mr. Martling, being one of the older (and wiser) guests at the party, said he would rather return to the days of his own youth than an earlier period in history.
"There are so many romantic answers to that, but there are so many places you could go where they wouldn't have toilets and they wouldn't have showers," Mr. Martling retorted, shrugging his shoulders. "It would be horribly uncomfortable. In my life personally, I'd like to go back to high school."
Charmed by the whirl of cocktails and canapés, we had completely lost track of time. We beat a hasty exit, pausing to contemplate the idea of summer vacation and the waning of another summer Out East.
jbenhamou@observer.com