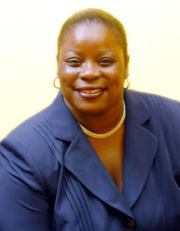 As race to replace Assemblyman Hakeem Jeffries enters its last stretch, some of the last political forces are finally weighing in. The latest is the Retail, Wholesale and Department Store Union, which has sided with District Leader Ola Alabi over fellow District Leader Walter Mosley.
"Olanike has stood up with working people on issues such as the fight for living wages, responsible development, keeping Walmart out of New York City until they change the way they operate, our campaigns for dignity for car wash workers and a fair contract for our members at Bloomingdale's," the union's president, Stuart Appelbaum, said in a statement. "We are confident that Olanike's values are our values. We have seen it in the way she has served effectively as a State Committeewoman/District Leader; and we expect the same when she becomes a State Assemblywoman."
RWDSU's endorsement is one of multiple labor endorsements Ms. Alabi, a former member of 1199, has secured in recent days, a list of which includes UFCW, District Council 37 and District Council 1707.
For his part, Mr. Mosley has received the lion's share of officials representing the area, including Borough President Marty Markowitz, Public Advocate Bill de Blasio, Councilwoman Tish James and Mr. Jeffries himself.
These rival sets of endorsements have made the race one of the top ones to watch on September 13th. Many see the electoral battle between Ms. Alabi and Mr. Mosley as a test to see if Mr. Jeffries, who dominated when he ran in a congressional primary earlier this year, will be able to reignite that same support, and if some of the city's more notable unions are enough to blunt Mr. Jeffries' political operation.
Also in the race is Department of Education official Martine Guerrier, but she has been waging a fairly quiet campaign. For example, she was did not participate in the Inside City Hall debate last Friday.