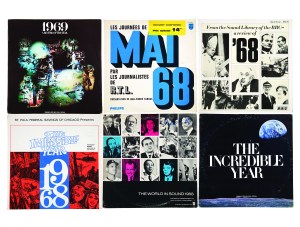 On the face of it, French artist Annette Messager and American Sharon Hayes could hardly be more different. Ms. Messager, using a rich formal and symbolic palette, delves deep into the magic and mystery of early childhood; Ms. Hayes, with a visual vocabulary that is stripped to the bone and an emphasis on the sense of sound over sight, focuses on the communication of some decidedly grown-up social and political issues. And yet, there is a kind of common ground: both artists involve the viewer in an investigation of oft-hidden facets of the psyche and their intermittent emergence into the light of the everyday.
The Hat (Le Chapeau), 2012, the piece that opens Ms. Messager's exhibition at Marian Goodman Gallery, is a conical witch's cap that twirls on a wire while a strategically placed fan blows a skirt of long brown hair up around it like Marilyn Monroe's dress. It's a striking, playful image, one that very much sets the tone for a show in which the dark arts take center stage. Most of the space is occupied by two large installations. In one room is The Black Continents (Les Continents noirs), 2012, an environment, inspired by Gulliver's Travels, in which a swarm of large black "flying islands" suspended just below the ceiling is dimly illuminated by several swinging light bulbs. At the other end of the gallery is Et range ta chambre (And tidy your room bedroom), 2007–2009, a multipart arrangement of toys, furniture, figures and unnamable abstract forms. In between the two is a small group of ink drawings dominated by a single word: chance.
Ms. Messager—whose closest aesthetic relatives, Louise Bourgeois, Christian Boltanski and Sophie Calle, can also trace their origins to France—is a confirmed bits-and-pieces artist, an inveterate collector and maximalist crafter who likes to amass, arrange and manipulate quantities of images and objects. Her work also shares with that of her compatriots an unabashedly emotional cast that can hew toward the sentimental. When it succeeds, however, which it does here, its material richness and quasi-surrealist symbolic drama have an immediate allure. Looming shadows usually come across as something of a sculptural cheap trick, but the shapes thrown by the hovering clumps of metallic and painted paper that approximate chunks of urban and rural landscape in The Black Continents manage to give the artist's ossified take on Swift's haunting vision of a drifting microcosm a disarming, amateur-dramatics feel.
The same sense of slightly softened anxiety marks Et range ta chambre, in which Ms. Messager threads a row of separate sculptures into a meandering sequence. Pinned onto dozens of ropes lining the walls are hand-illustrated badges grouped by theme. One column features images of skulls; another, real pressed leaves; a third, teapots and teacups. In front of these are positioned various objects, including a dreamcatcher-like metal hoop fringed with strips of rubber, several small figures and vehicles upholstered in black leatherette, and an incongruously colorful arrangement of plastic Lego blocks. There is also, in Arbre architecture, 2009, a tiny room setting and, in Black Cones, 2009, a dangling cluster of the titular forms enveloped in netting. The whole assembly has a gothic, fetish-y, Alice in Wonderland styling that will be too rich for some viewers' blood. But inhabit this messy den long enough and some order will emerge, as elements of fantasy and dream are brought together with motifs from the waking world.
Ms. Hayes's "There's so much I want to say to you" also frames a set of individual works as interconnected elements of a master installation. Occupying the Whitney Museum of American Art's third floor, a selection of old and new projects by the artist are corralled inside an environment produced in collaboration with fellow artist Andrea Geyer. Space Set/Set Space, 2012, is a kind of modular display system modeled after those used in trade shows, a utilitarian plywood structure that incorporates stages, steps, screens and platforms. Suggesting a more functional version of something that British conceptual sculptor Liam Gillick might design, it's an ideal environment for work that often revolves around ideas of communication and performance, private and public contexts.
As her exhibition's title suggests, Ms. Hayes returns again and again to the possibilities and limitations of speech. A frieze of covers from her collection of vintage spoken-word albums reveals a thoroughgoing interest in the historical influence of oratory—before TED talk podcasts, there were aural "reviews of the year" and Malcolm X Speaks to the People in Harlem. A particular focus is the distorted, suppressed or underacknowledged meeting of the personal and the political, and she often places herself at the center of its investigation. Everything Else Has Failed! Don't You Think It's Time for Love?, 2007–2008, for example, is an audio installation that documents her recitation of a monologue outside a Midtown office. Over a five-day period, Ms. Hayes addressed an unnamed lover in a mode that unnervingly juxtaposes personal expressions of longing with concerns around living in a time of war. I March in the Parade of Liberty but as Long as I Love You I am Not Free, 2007–2008, incorporates early gay liberation slogans and fragments from Oscar Wilde into its mix-and-match script, to still more heartrending effect. "We will not hide our love away," rails the artist to passersby, "we will not be silent!"
The more inextricably Ms. Hayes fuses her voice with others', the more powerful its impact, even when the flaws of her delivery are deliberately underscored. In the video installation Symbionese Liberation Army (SLA) Screeds # 13, 16, 20 and 29, 2003, the artist is shown reciting from memory a series of statements made by Patty Hearst, the California heiress who was kidnapped by the militant group in 1974 and ultimately declared her solidarity with it. As Ms. Hayes speaks, an unseen audience offers constant corrections, transforming the strident words of the original communiqué into a stuttering, stumbling exercise in recall that throws both original text and later restaging into doubt.
editorial@observer.com