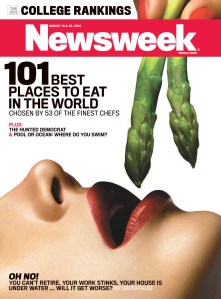 Newsweek stunned no one this week when their most recent cover appeared on newsstands—a striking image that managed to be not only sexist, gratuitous and just plain ludicrous, but recycled. The image  was a stock photo that had previously been used in several other magazines. Unsavory and unoriginal!
We say, if you're going to go for it…really go for it. Click through to see our ideas for future Newsweek covers. Have at it, Tina.
Photo illustrations by Ed Johnson.