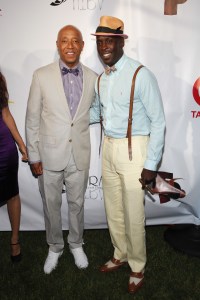 "My first young experience with the arts was putting on my mother's Afro wig and singing Michael Jackson songs in the bathroom mirror," the actor Michael K. Williams reported to The Observer on a drizzly Saturday evening in East Hampton.
We were at Russell Simmons's house for the 13th annual Art for Life Foundation benefit, which this year was to honor a slate of luminaries, including Mariah Carey and Nick Cannon, Bancorp Inc.'s Betsy Z. Cohen, Tamia and Grant Hill and Sun Capital Partner Inc.'s Marc J. Leder.
Just moments before, Mr. Williams had been posing for a few clicking cameras, a cigar tucked between his lips as he tugged at leather suspenders overlaying a blue-and-white checked shirt. We had no problem visualizing the mental image of a young Mr. Williams belting "Beat It." Though Mr. Williams is perhaps best known for his role in HBO's The Wire, he divulged that his creative career actually began with dance.
"In school, [art] stimulated me. It made me want to stay in school; it made me want to learn. It stimulated my mind in ways that I can't ever really explain," Mr. Williams remembered, his previously lighthearted tone on hiatus. "But as an adult, as a human being, the arts saved my life."
But even with the former dancer's current television chops and star credentials, the Brooklyn native admitted the evening's trek to East Hampton was only his second. We took another glance at his dapper appearance before concluding that his Ralph Lauren getup certainly didn't betray him as a Hampton newcomer.
We shifted attention toward the night's cohost, artist (and older brother of Russell) Danny Simmons.
Though on painkillers after recently throwing out his back, Mr. Simmons seemed in rare form and eager for the fête.
"It's going to be our biggest year ever, and we got blue people standing around on the lawn, we got pink people, orange and blue people," Mr. Simmons told us emphatically, while motioning toward the performance artists outfitted in brightly colored jumpsuits on the lawn. (The chromatic theme for the evening was "the summer's hottest hues: rush orange, aqua blue, chartreuse, and fuchsia.")
Mr. Simmons announced that the foundation—which raises money for arts education and gallery programs to benefit inner-city youth—was entering the night having raised more than $1.5 million this year, not including the proceeds to be garnered from the evening's auctions "A lot of money for me this year would be anything over $2.1 million," he said. "That's the most we've ever raised."
We raised our gaze toward the tent (all while eluding the first drops of rain) to speak with designer B Michael, outfitted in all-white garb from his men's wear couture collection.
"I love summer because as a New Yorker, I wear black every day and summer is my excuse to wear white and do color," Mr. Michael told us, referring to his monochrome duds. His usual East Hampton attire is a pair of white raffia shorts combined with a linen shirt and "shoes like this," he said pointing to his white, beach-print shoes (a brave choice for a red carpet of damp grass).
Jonathan Cheban must have read our thoughts. "What am I wearing?" he inquired preemptively. "Something that's going to get destroyed tonight, for sure."
Aside from his Out East look—which had him donning an open-necked tuxedo shirt—Mr. Cheban also spoke of his creative focus. "I feel like art is always related to people, and it's helped people get to different levels and take them out of wherever they are," he waxed. "It's something that people with talent can kind of use."
After Mr. Cheban retreated to a dry space, we turned to Rocsi from BET's 106 & Park and solicited her opinion about the night's honoree, Ms. Carey, joining American Idol as a judge.
"I think it's the most brilliant thing," she enthused. "I think so many other shows may be a little envious and jealous that they got Mariah. She is this generation's Whitney in some people's eyes." (We left aside the more morbid implications of the comparison.)
MC Lyte later echoed Rocsi's sentiments. "Five octaves?" she queried rhetorically of Ms. Carey's vocal range. "That doesn't happen today."
The red carpet culminated with the appearance of Salt-N-Pepa, Cheryl James and Sandra Denton, respectively, who simultaneously cooed praises for the evening's fundraising.
"The arts obviously are very important for young people to express themselves," Ms. James said. "It's the way we made our living, and, you know, I think it's very important for kids to be able to express who they are through music. The creativity keeps them happy, keeps them going."
By this point, heavy clouds began to release a steady drizzle, prompting red-carpet invitees to bid a final hello before seeking dry ground and comforting libations. We nabbed ourselves a French 75 (the drink du nuit, courtesy of Bombay Sapphire) before joining them.
Upon entering the tent, we were immediately greeted with work from a variety of artists. As we perused the exhibit, we noted the ballooned, asymmetrical fixtures ornamenting the room's ceiling.
Large lamps served as centerpieces for the tables—some mimicked animal shapes while others stood bedecked with silverware painted to blend with the monochrome palette of each lamp. All boasted intermittent, blinking lights. The entire scene possessed enough whimsy that we wondered whether a child had blueprinted the entire experience—save for the ever-flowing wine bottles and performances by Anita Baker, Salt-N-Pepa and Diggy Simmons.
We kept these musings to ourselves as we retreated from the East Hampton abode and back to the water-logged city.
sgrothjan@observer.com