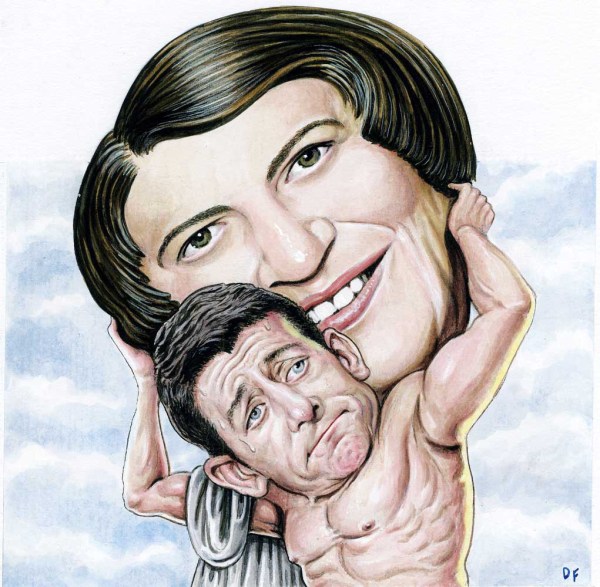 To many people, the name Ayn Rand is a punch line, an occasion for a little eye-rolling, a superior cackle or a dismissive tweet (crazy Russian bag lady/right-wing hypocrite/home-wrecking lunatic, etc.). When Rand was alive—a small, feisty woman who chain-smoked and spoke in a thick Russian accent—she was condemned by intellectuals across the spectrum. To the left, she was a reactionary, a fascist, a capitalist pig who advocated for a complete separation between government and economics, limitless individualism and the virtue of selfishness.
To the right, she was an atheist; to moderates, an absolutist. Her books were often dismissed as over-the-top, Nietzschean romance novels for alienated adolescents, and her philosophy, Objectivism—which Rand described as "the concept of man as a heroic being, with his own happiness as the moral purpose of his life, with productive achievement as his noblest activity, and reason as his only absolute"—is ridiculed to this day.
Not that any of it made a dent in her legacy. Before her death in 1982, she declared, "I will not die, it's the world that will end." Turns out she was onto something. Unlike a great many of her contemporaries (e.g., James Gould Cozzens), who scarcely register today, Rand is still selling books—more than 800,000 a year, on average, for a total exceeding 25 million.
A surprising number of people will tell you "Ayn Rand changed my life." Parents name their kids after her fictional characters. Ronald Reagan, who filled his administration with Rand devotees, claimed he was a fan, as have Larry Ellison, Steve Jobs, Billie Jean King, Chris Evert, Martina Navratilova, Clarence Thomas, Clark Gable, Barbara Stanwyck, Ted Turner, Barry Goldwater, Melanie Griffith, Frank Lloyd Wright, Sandra Bullock, Simon Le Bon, Madonna, Rob Lowe, Rush Limbaugh, Sharon Stone, Vince Vaughn, Jennifer Aniston, Angelina Jolie, Brad Pitt, Billy Beane, Christina Ricci, Kurt Russell, Jim Carrey, Cal Ripken Jr., Marc Cuban, Eva Mendes, Hugh Hefner and numerous Playboy centerfolds.
Jerry Lewis once said that he carries a copy of The Fountainhead everywhere he goes. Steven Spielberg loves the 1949 movie version starring Gary Cooper and Patricia Neal. The Canadian rock band Rush based a concept album on Rand's novel Anthem.
Hillary Clinton said she went through "an Ayn Rand phase," as did Lesley Stahl, Ron Paul, Rand Paul and Hunter S. Thompson. Alan Greenspan was a member of Rand's inner circle.
According to a nationwide poll by the Library of Congress, the 1,168-page Atlas Shrugged is the second most influential book in the country, after the Bible.
Every few years it's announced that Ayn Rand is "having a moment." In the 1990s, Newsweek declared "she's everywhere," a documentary about her life was nominated for an Academy Award, and the U.S. Postal Service came out with a stamp commemorating the "controversial but respected author."
Between the centenary of her birth (2005) and the 50th anniversary of Atlas Shrugged (2007), the moments have turned into more of a boom. The Libertarian Party owes her a major debt. Silicon Valley loves her. CEOs take refuge in her pro-capitalist ideas. Starting with the bailouts and TARP, book sales went through the roof, and since Obama took office, over 1.5 million copies of Atlas Shrugged have been sold.
For decades there has been talk about a movie version of the novel; Godfather producer Al Ruddy, Clint Eastwood, Robert Redford and Faye Dunaway are among those who have failed to pull it off. In 2006, there was speculation that Angelina Jolie might play the beautiful, brainy, powerful railroad executive Dagny Taggart, and that Brad Pitt was circling the role of John Galt. The deal fell through, but on April 15, 2011, investor John Aglialoro (who had optioned the novel in 1992) released Atlas Shrugged: Part 1. Despite efforts by Tea Party groups and Fox News personalities to promote it, the movie was a flop. Nonetheless, a sequel, starring Samantha Mathis as Taggart and D.B. Sweeney as Galt, is being prepped for release in time for the 2012 election.
The timing is auspicious. In the run-up to next year's 70th anniversary of the publication of The Fountainhead, another Rand revival appears to be underway, recently goosed by Mitt Romney's selection of Congressman Paul Ryan as his running mate. In a 2005 speech to the Atlas Society, Mr. Ryan said he grew up reading Rand's work, "and it taught me quite a bit about who I am and what my value systems are, and what my beliefs are." He added, "There is no better place to find the moral case for capitalism and individualism than through [her] writings and works." He also confessed that he got involved in public service because of her, and that Atlas Shrugged still informs his views on monetary policy.
Mr. Ryan began backpedaling in April. Rand, after all, was an athiest who considered abortion a "moral right." The congressman recently told Fox News's Brit Hume that he was no Ayn Rand disciple, and that although he'd "really enjoyed" her novels, he "completely" disagrees with her atheistic philosophy. "She came from Communism," he continued. "She showed how the pitfalls of socialism can hurt the economy, can hurt people, families and individuals."
The transformation of Ayn Rand from a novelist into the founder of a philosophical movement was the work of Nathaniel Branden, the "most significant last living link" to the author, as he put it. Mr. Branden probably knew Rand as well as anyone. "I think she was a very troubled woman, who had incredible virtues and incredible vices," he said. "I admired her beyond words," he added. "Jesus, it was a great adventure. We became soul mates. Or so I thought."