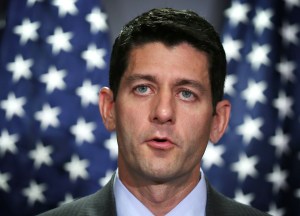 The latest campaign controversy to rock this election's 24-second news cycle came after Reuters campaign correspondent Sam Youngman wrote on Twitter that Paul Ryan "said that even though potus said he would crack down on China 'they're treating him like a doorman'" at an event in Ohio. The quote was also picked up by Politico's Juana Summers, however it quickly became clear that Mr. Ryan actually called President Barack Obama China's "doormat," a phrase which, while still insulting, is far less racially charged.
Mr. Youngman quickly corrected himself as his tweet began to go viral.
"My mistake. In the auditorium, it sounded like doorman. And yeah, doormat makes more sense. Apologies," he wrote. "I REPEAT: IT WAS DOORMAT. IT SOUNDED LIKE DOORMAN IN PERSON. I AM SORRY."
According to Buzzfeed's Zeke Miller, who also attended the event, Mr. Ryan made his "doormat" comment while accusing Obama of failing on his vow to "go to the mat with China."
"Free trade is a powerful tool for peace and prosperity, but our trading partners need to play by the rules," Mr. Ryan said. "This challenge focuses on China. They steal our intellectual property rights, they block access to their markets, they manipulate their currency. President Obama promised he would stop these practices. He said he'd go to the mat with China, instead they are treating him like a doormat."
As for Mr. Youngman, the rapid flub flap apparently made him want to take his ball and go home.
"I think that's gonna do it for me and twitter today. Y'all are an unforgiving bunch," he wrote.